Ocean James Smith
Essex Newsman 9 Dec 1939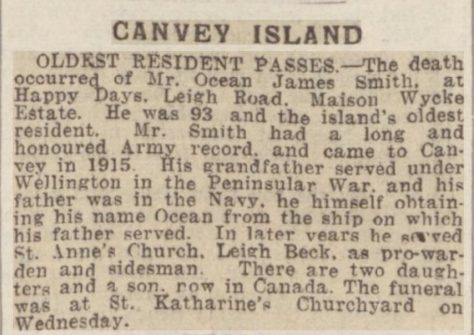 Oldest Resident Passes .-The death occurred of Mr Ocean James Smith, at Happy Days, Leigh Beck. Maison Wycke Estate. He was 93 and the Island's oldest resident. Mr Smith had a long and honoured Army record and came to Canvey in 1915. His grandfather served under Wellington in the Peninsular War and his father was in the Navy he himself obtaining his name Ocean from the ship on which his father served. In later years he served St Anne's Church, Leigh Beck, as Pro-warden and sidesman. There are two daughters and a son now in Canada. The funeral was at St Katherine's Churchyard on Wednesday.
~~~~~~~~~~~~~~~~~~~~~~~~~~~~~~~~~~~~~~~
Ocean James Smith was born in 1846 in Sheep, Kent. His father was a sailor on the ship 'Ocean' which gave him his name. He married Fanny Hyde in Surrey in 1883, the couple lived in Camberwell where Ocean was first the Sexton, then the Verger at St Marks Church. The couple had three children Frances, Ocean and Ellen, his son Ocean emigrated to Canada. Ocean and Fanny retired to Canvey in 1915 where Ocean took up the post of pro-warden and sidesman at St Annes Church. Fanny died in 1919 and is buried in St Katherines Churchyard. The couple lived at 'Brooklyn'. Hanut Road, Leigh Beck, Ocean moved later to 'Happy Days', Leigh Road, Maisonwyck Estate where he died in 1939 aged 93.  He too is buried in St Katherines Churchyard.
If anyone can tell us any more about Ocean James Smith please comment below.