Canvey Island, March 26
Essex Weekly News 1943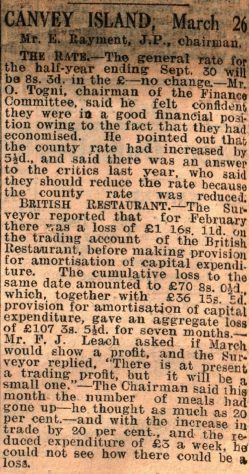 Mr. E. Rayment, J.P., chairman.
The Rate.—The general rate the half-year ending Sept. 30 will be 8s. 3d. in the £—no change.—Mr. O. Togni, chairman of the Finance Committee, said he felt confident they were in a good financial posi­tion owing to the fact that they had economised. He pointed out that the county rate had increased by 5 ½ d., and said there was an answer to the critics last year, who said they should reduce the rate because the  county rate was reduced,
BRITISH RESTAURANT—The Surveyor reported that for February there was a loss of £1 16s. 11d. on the trading account of the British Restaurant, before making provision for amortisation of capital expenditure. The cumulative loss to the same date amounted to £70 8s. ½ d., which, together with £36 15s. 5d. provision for amortisation of capital expenditure, gave an aggregate loss of £107 3s. 5 ½ d. for seven months.
Mr. P. J. Leach asked if March would show a profit, and the Surveyor replied, "There is at present a trading profit, but it will be a small one."—The Chairman said this month the number of meals had gone up—he thought as much as 20 per cent.—and with the increase in trade by 20 per cent., and the re­duced expenditure of £3 a week, her could not see how there could be a loss.
~~~~~~~~~~~~~~~~~~~~~~~~~~
Does anyone know anything about the British Restaurant?