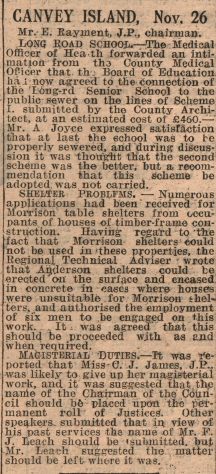 Mr. E. Rayment, J.P., chairman.
Long Road School.—The Medical Officer of Health forwarded an inti­mation from the County Medical Officer that the Board of Education has now agreed to the connection of the Long-rd Senior School to the public sewer on the lines of Scheme I. submitted by the County Archi­tect, at an estimated cost of £460.— Mr. A Joyce expressed satisfaction that at last the school was to be properly sewered, and during discus­sion it was thought that the second scheme was the better, but a recom­mendation that this scheme be adopted was not carried.
Shelter Problems. — Numerous applications had been received for Morrison table shelters from occu­pants of houses of timber-frame con­struction. Having regard to the fact that Morrison shelters could not be used in these properties, the Regional Technical Adviser wrote that Anderson shelters could be erected on the surface and encased in concrete in cases where houses were unsuitable for Morrison shel­ters, and authorised the employment of six men to be engaged on this work. It was agreed that this should be proceeded with as and when required.
Magisterial Duties.—It was re­ported that Miss C. J. James, J.P., was likely to give up her magisterial work, and it was suggested that the name of the Chairman of the Council should be placed upon the per­manent toll of Justices. Other speakers submitted that in view of his past services the name of Mr. F. J. Leach should be submitted, but Mr. Leach suggested the matter should be left where it was. .