Canvey Workers Fined
Essex Weekly News May 1943
70 plus years later not a lot has changed then.
~~~~~~~~~~~~~~~~~~~~~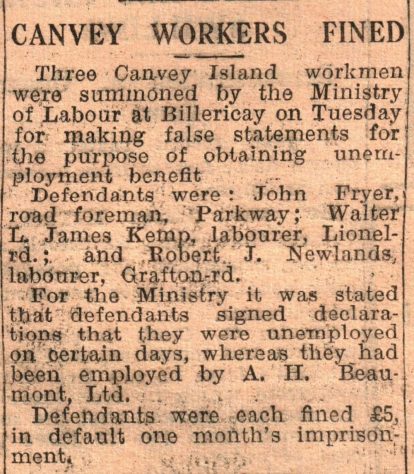 Three Canvey Island workmen were summoned by the Ministry of Labour at Billericay on Tuesday for making false statements for the purpose of obtaining unemployment benefit.
Defendants were : John Fryer, road foremen, Parkway; Walter L. James Kemp, labourer, Lionel Road; and Robert J Newlands, labourer, Grafton Road.
For the Ministry it was stated that defendants signed declarations that they were unemployed on certain days, whereas they had been employed by A H Beaumont Ltd.
Defendants were each fined £5, in default one month's imprisonment.