Vandals Demolish Village
Canvey News Benfleet Observer 1976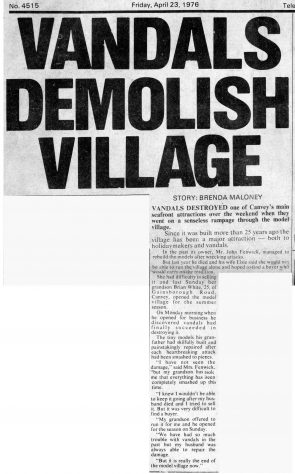 Vandals destroyed one of Canvey's main seafront attractions over the weekend when they went on a senseless rampage through the model village.
Since it was built more than 25 years ago the village has been a major attraction — both to
holidaymakers and vandals.
In the past its owner, Mr. John Fenwick, managed to rebuild the models after wrecking attacks.
But last year he died and his wife Elsie said she would not be able to run the village alone and hoped to find a buyer who would carry on the tradition.
She had difficulty in selling it and last Sunday her grandson Brian White, 25 of Gainsborough Road, Canvey, opened the model village for the summer season.
On Monday morning when he opened for business he discovered vandals had finally succeeded in destroying it.
The tiny models his granfather had skilfully built and painstakingly repaired after each heartbreaking attack had been smashed to pieces.
"I have not seen the damage," said Mrs. Fenwick, "but my grandson has told me that everything has been completely smashed up this time. I knew I wouldn't be able to keep it going after my hus­band died and I tried to sell it. But it was very difficult to find a buyer. My grandson offered to run it for me and he opened for the season on Sunday. We have had so much trouble with vandals in the past but my husband was always able to repair the damage. But it is really the end of the model village now."