London takes 10,000 to its great heart
Daily Mail Monday February 2 1953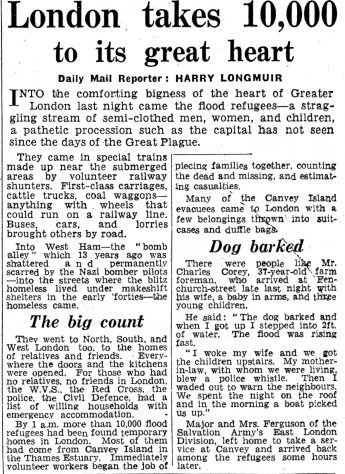 Into the comforting bigness of the heart of Greater London last night came the flood refugees—a strag­gling stream of semi-clothed men, women, and children, a pathetic procession such as the capital has not seen since the days of the Great Plague. They came in special trains made up near the submerged areas by volunteer railway shunters. First-class carriages, cattle trucks, coal waggons— anything with, wheels that could run on a railway line. Buses, cars, and lorries brought others by road.
Into West Ham—the " bomb alley" which 13 years ago was shattered and permanently scarred by the Nazi bomber pilots —into the streets where the blitz homeless lived under makeshift shelters in the early 'forties—the homeless came.
They went to North, South, and West London too, to the homes of relatives and friends. Every­where the doors and the kitchens were opened. For those who had no relatives, no friends in London, the W.V.S., the Red Cross, the police, the Civil Defence, had a list of willing households with emergency accommodation.
By 1 a.m. more than 10,000 flood refugees had been found temporary homes in London. Most of them had come from Canvey Island in the Thames Estuary. Immediately volunteer workers began the job of piecing families together, counting the dead and missing, and estimat­ing casualties.
Many of the Canvey Island evacuees came up London with a few belongings thrown into suit­cases and duffle bags.
There were people like Mr. Charles Corey, 37-year-old farm foreman, who arrived at Fenchurch street late last night with his wife, a baby in arms, and three young children.
He said: "The dog barked and when I got up I stepped into 2ft. of water. The flood was rising fast. I woke my wife and we got the children upstairs. My mother-in-law, with whom we were living, blew a police whistle. Then I waded out to warn the neighbours. We spent the night on the roof and in the morning a boat picked us up."
Major and Mrs. Ferguson of the Salvation Army's East London Division, left home to take a ser­vice at Canvey and arrived back among the refugees some hours later.