Canvey Island - a Poem
The Benfleet, Canvey and District News 1922
Published in the Benfleet, Canvey and District News May 1922 and as stated in that paper it was taken from 'The Referee'.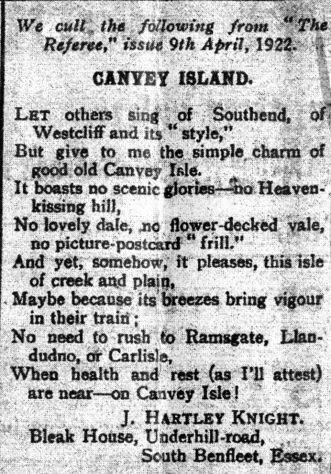 We culled the following from "the Referee" issue 9th April, 1922.
Let others sing of Southend, of" Westcltff and its "style,"
But give to me the simple charm of good old Canvey Isle.
It boasts no scenic glories—no Heaven-kissing hill,
No lovely dale, no flower-decked vale, no picture-postcard "frill."
And yet, somehow, it pleases, this isle of creek and plain,
Maybe because its breezes bring vigour in their train;
No need to rush to Ramsgate, Llan­dudno, or Carlisle,
When health and rest (as I'll attest) are near—on Canvey Isle!
J. Hartley Knight.
Bleak House, Underhill-road,
South Benfleet, Essex.