The land of Cana's People
written by Katie Mallett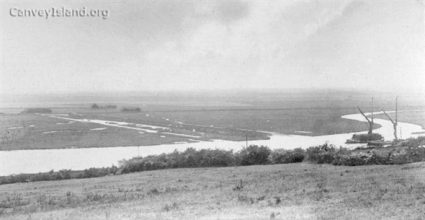 Richard & Barbara Kovelant
The land of Cana's people once,
Now overspill from London,
Commuter belt, with District Council,
Commonplace and humdrum.
Shops in ranks in a covered walk
That could be anywhere,
Any centre, any town,
Plate glass, and built all square.
Fields once tilled by Holland's men
Now rafts for house foundations,
A creeping mould of red raw bricks
And drab grey cementations,
Eating up the fields of hay
That once fed London's horses,
Replacing rambling farms and barns –
Factories in courses.
An Island in an estuary,
Still a special place,
Though homes and shops and offices
Are spread across its face.
Still comes the mist at break of day
To lend its mystery.
Still tolls the bell on Chapman Buoy
To lend its dignity.
Still ships go sailing in the sky
Above the new sea wall,
And still out on the brackish marsh
The gulls and plovers call.
Old names still give the roads some charm,
Dutch cottages still stand,
And still the warmth of Canvey hearts
Gives colour to this land.