Digging out (After the floods)
by Katie Mallett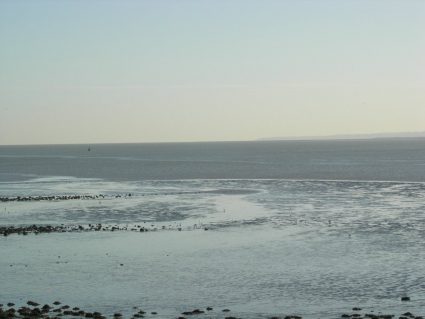 Beyond the sea wall, the sand
Soon peters out to slimy mud,
Reminder of a time when land
Was drowned beneath a winter flood.
For when the water level sank
The battered homes were dark and dank.
The Islanders, on coming back,
Hearts filled with hope and trepidation,
Found carpets lined with stinking black
And furniture beyond salvation.
Heartbreaking moments, as the chore
Of cleaning up filled them with awe.
But buckling down (as people do
In times of dire adversity)
With sweat and spades the residue
Of Neptune's anger steadily
Was cast aside, and tearing down
Wrecked buildings purged the stricken town.
Then, like a phoenix from the flames
The Island's shining spirit rose
And roads with familiar names
Had shacks replaced by bungalows
And solid houses, built with pride
To challenge threats from wind and tide.
Beyond the new sea wall, the mud
Shines rippling in the morning sun,
Reminder of a tragic flood
And of a battle that was won
By stamina, co-operation,
And Canvey's sheer determination.