Flooded but not sunk
By Katie Mallett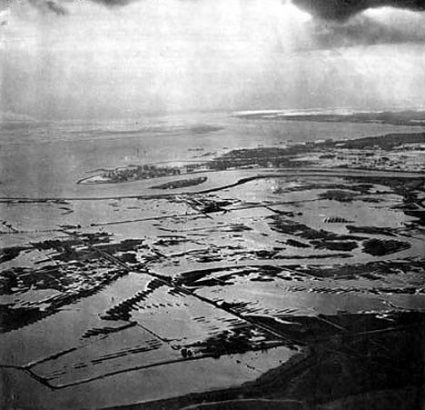 January chilled the River Thames,
Had blanched its summer blue to pewter grey,
Swirling into creeks, round grassy stems
It filled and overfilled each waterway.
Lithe as a writhing serpent's scales and skin
It crushed the tidal barriers, to break
The Island's bones, and finally rushed in,
Bringing death and chaos in its wake.
Streets turned into rivers, houses seemed
Like boats, as waves licked walls and seeped in doors,
Damply rousing residents who dreamed
Of oceans lapping sand on warmer shares.
Cold as ice, the wind a constant whip,
Clinging onto roofs till help arrived,
Waiting, praying, trying not to slip
Frail humanity somehow survived.
Then at last the river loosed its grasp,
Slunk away to leave a sea of mud,
Deadly as the poison of an asp
To dryland plants, too victims of the flood.
But, human spirit cannot be suppressed
Residents returned to Canvey's plain,
To put the sea defences to the test,
And pray the Island will not flood again.