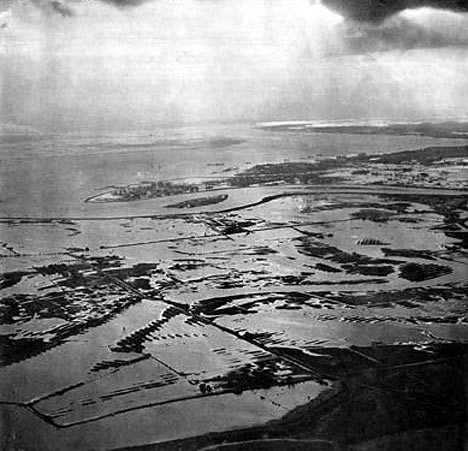 When to this pleasant island there came in 'fifty-three,
Without the slightest warning a solemn tragedy.
When homes were devastated and many lives were lost.
The sea had made great inroads, as such a fearful cost.
We, who had neglected God, then sent our prayer above.
He heard our wild petitions, and answered them in love.
He sent the help and succour, and strength to meet our need,
He called for faithful workers, to follow in His lead.
In many far-off countries, He touched a loving heart,
They sent their gifts and parcels, to give us all a start.
We accepted the parcels, the carpets, and the wine.
Our gratitude was boundless, and would be, for all time.
Yet many have forgotten, year nineteen fifty-three;
No thought of flood or danger now mars security.
We still accept His bounty, the grace by which we live,
Take all that God doth offer, how little do we give?
His church here, stands pleading, and calls us in His name,
To give for restoration, its crying need—our shame.
To those who now have prospered, or those of means so small,
Let each one give a token—to God who givest all.
~~~~~~~~~~~~~~~~~~~~~~~~~~~~~~~~~~~~~~~~~~~~~~~
This is from Phyllis 'Without Malice' book of poems dated 1959