Canvey Island Rotary Club
Graham Stevens talks to the Rotary about the Archive
On the 10th March the weekly meeting of Canvey's Rotarians met at the Oysterfleet. Twelve members were given a presentation by Graham Stevens about the Canvey Community Archive.
Graham  explained the setup of the Archive 'Capturing' Local Canvey History with the help of the Essex Record Office and a grant from the National Lottery. He explained the site was setup by David Bullock with a team of volunteers consisting of himself (Graham Stevens), Steve Bullock, Barbara Roycroft, Sue Hampton (Canvey Library), Mark Graham and Janet Penn  with the help of Canvey Library.
Graham handed out leaflets giving all the information about the site. There was considerable interest shown with all aspects of the 'Archive' and its History including Canvey's 'degaussing' Station soon to become a museum. Many other events of Canvey's History were also discussed with considerable enthusiasm.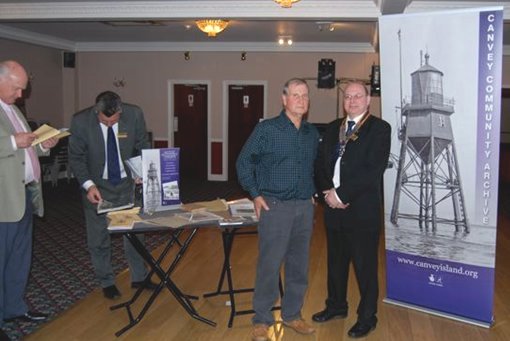 After the talk the Rotarians were shown the Archives Booklets compiled by Janet Penn. The new Second Issue and the Commemorative Hester Edition are to be sponsored by the Rotary Club after a proposal by Mike Machin.
The Rotary will be putting the History of the Canvey Rotary Club on the site and Fellow Rotarians (including John Tremain) have memories and photographs to add to the Archive.
The Rotary Club thanked Graham for his presentation and said they were impressed with the groups dedication to preserve Canvey's History and people's memories. Graham thanked the Rotarians for the invitation and generous donation allowing us to publish our next two booklets.
_________________________________