Canvey Community Archive has been breaking records.
During this emergency when we are all having to stay at home the archive has been a great source of information to many Canveyites. We have been breaking records and making a great difference to many people's lives.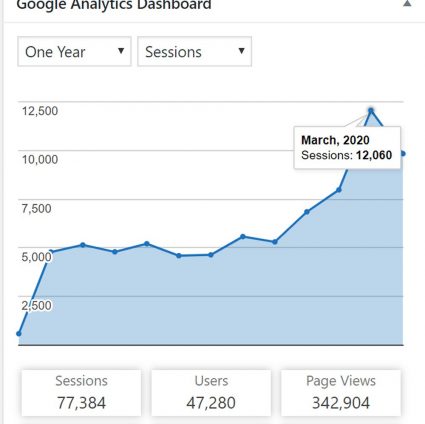 When we upgraded the website last year the site had been on a slide for sometime due to the fact the site looked old (it was 11 years old) and also the internet giants (ie. Google etc) decided to push for all sites to be of a modern design and others like ours were pushed to the background. At our peak we were having between 9,000-10,000 visitors a month. Gradually that fell to more like 3,000-4,000 and nothing we did helped.
Once the upgrade was in place our hits took off on a good slope upwards but it has been the pandemic that has seen the number of visitors soar. It can clearly be seen in these graphs as everyone started to realise what was happening the graph soars to our largest ever monthly figure of 12,600. It was the 14th March that was our biggest number with 938 visitors in one day. It then plummeted as we all got hit by the realisation of what was going to happen the following weekend. It is very clear to see on the second graph.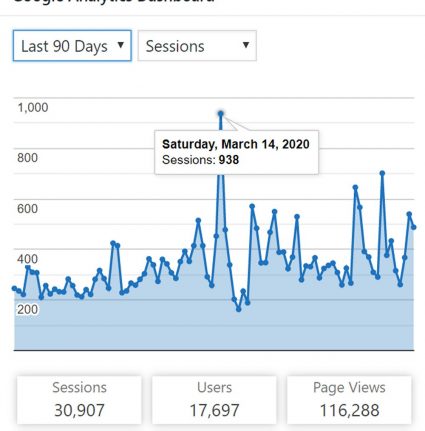 Since then it has not fallen below 300 a day and often more than double that. Today sees another record breaker in the making with over 400 visitors already and it is only lunchtime.
We have had loads of new pages uploaded direct to the site or emailed to us. The number of new pages is again a record. We will very soon pass the 5,500 number pages.
We are very pleased we upgraded when we did. It meant we were in the ideal position to visit everyone's living room during the pandemic and pass on the wealth of information gathered over the last 12 years. We very much hope that when this is all over or should we say when we are all let out again you will continue to visit and perhaps drop us a gem or two to add to the site.