About 2015 saw a new influx of permanent residents to Canvey Island. Not the usual visitors but from a familiar place, London. The first of many skeletons were brought to the Willows Cemetery for reburial. They had been excavated whilst digging the new Crossrail that included part of The New Churchyard, Bedlem A.D. 1569-1739.
T Cribb and Son Funeral Directors, the owners of Willows Cemetery have marked the area where the skeletons are buried with a garden and we understand there will be a fitting memorial placed here later.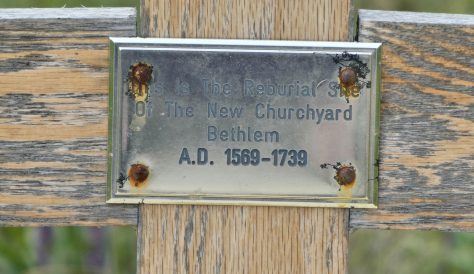 The New Churchyard was a municipal and non-parochial burial ground in London. Established in 1569, it was used for burial from 1570 until 1739, by which date approximately 25,000 interments were estimated to have taken place. It was created to accommodate the ever-increasing number of new interments required as London's population expanded during 16th to 18th centuries. It was known as a "churchyard" despite not being associated with a church and, from the mid-17th century, became more commonly known as Bedlam or Bethlem burial ground because its location within the "Bedlam" or "Bethlem" area (land which previously formed the precinct of the Priory of St Mary of Bethlehem (later Bethlem Hospital)). The remains of the burial ground are now located under modern Liverpool Street, within the north-east corner of the City of London.
As a municipal ground, it was available to any institution, parish or individual who wished to use it. People from all walks of life were buried there but especially those at the margins of society. It was nondenominational, and in practice was particularly favoured by nonconformists. The ground was heavily used for the burial of the poor and those who died in some of London's hospitals and prisons, as well as plague victims.
In 1772, the burial ground was converted into private gardens and yards belonging to the adjoining houses, which had been built in 1737. However, burials were rediscovered during developments of the 19th and 20th centuries, chiefly during the creation of Liverpool Street (the road) in 1823–24 and the construction of Broad Street station in 1863–65. In 1985–87, and again in 2011–15, the site was the subject of major archaeological excavation and analysis in association with, respectively, the construction of the Broadgate development and the Crossrail railway project.