Alan Whitcomb at Canvey Library
Author visit
Every year libraries and venues across Essex take part in the Essex Book Festival. This year, on Sunday 21st March, Canvey Island Library hosted a visit by a local author, Dr. Alan Whitcomb, talking about his latest book 'Hops, Doodlebugs and Floods'. Having written many books in the past this was Alan's first non-academic publication and especially significant to Islanders who could relate to many of the experiences of Canvey in the past years.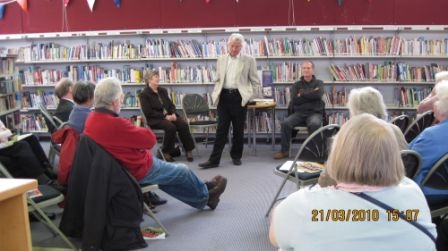 The audience were met at the door by the Library Supervisor, Tina Johnson and her staff who served tea, coffee, cakes and biscuits and generally made everyone feel very welcome and relaxed.
Diane Toscani, the Group Manager, gave a short opening speech introducing the author and his wife Olivia, along with two guests Mr. Graham Stevens, Deputy Chair of Canvey Community Archive and popular local councillor Ray Howard.
Alan Whitcomb was a superb speaker, bringing past events mentioned in his book to life, in an interesting and humorous way. These included going hop-picking with his family and the effects of the war on them and people he knew. He kept the audience entertained with stories of his entry into the Merchant Navy, having lied about his age, and some of the exploits he was involved in with a few gentle admonishments from Olivia not to mention "toilets" too often!!
His account of how having failed the 11plus exam he furthered his education in later years and with determination and hard work gained a Doctorate at Cambridge University, was an inspiration to those who feel they have been written off as non- achievers.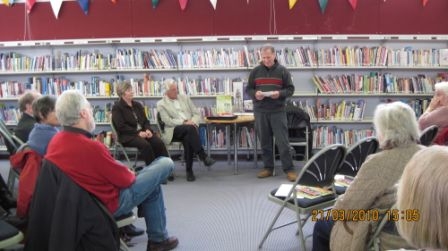 Many Islanders who were involved in the 1953 floods will relate to his account of what took place here at that time whilst those who are only learning about the terrible event will appreciate through his book how the people of Canvey Island suffered.
Alan spoke in such an easy, comfortable manner it made the time pass by so quickly that when we arrived at the time allocated for questions from the audience we felt we had only heard half of what he could have told us. In fact chatting to people afterwards it was generally agreed that we could have listened to his entertaining talk for longer. Copies of his book were on sale and the author was happy to autograph them. Our thanks go to Dr.Alan Whitcomb for a very successful event enjoyed by everyone who attended.