Memories Day
CCA in the Library
June saw Canvey Library heaving with local people all eager to tell us about their memories. This was Memories Coffee Morning put on in partnership with Canvey Library. It started a bit slow but once word got out that you could have coffee, cake and a chat people started coming in eager to tell us about their time on Canvey. One very interesting lady who had owned  a shop in the original Altermans Arcade, not only told us about her premises but also she was able to tell us about some of the other shops therein. Hopefully we will be able to have a street map of Canvey's High Street not forgetting the Arcade and be able to build up a picture of shopping from years gone by. It will be interesting to see this join up with Graham Stevens photo's and notes of some of the shops from the Leigh Beck end of Canvey.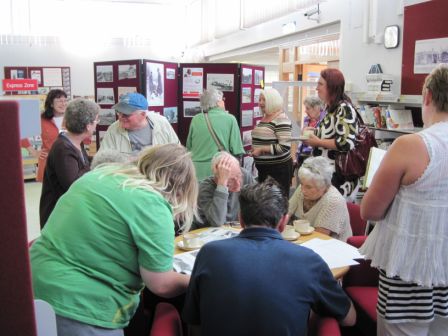 One question was posed "Does anyone remember Spantons Grocers, where the Halifax Building Society is now? There were lots of old pictures on the stands for people to look at and nudge their memories. Volunteers from the Canvey Community Archive were able to tell everyone what the Archive was all about , one gentleman in particular was very enthusiastic and said "it was nice to see old Canvey brought back and memories kept alive, well done all".
Norman Chisholm has very kindly donated his collection of Old Canvey Photos to the Archive and was a guest at the Memories Day. Its people like this that we need, to keep Canvey alive as quoted above.
Don't forget that you too can record your memories on this site, a member of the archive will be on hand to give you any help you need at Canvey Library on the 1st Thursday of the month from 10-12.
Click on the photos below to view.