Beyond the Point
Local Award Evening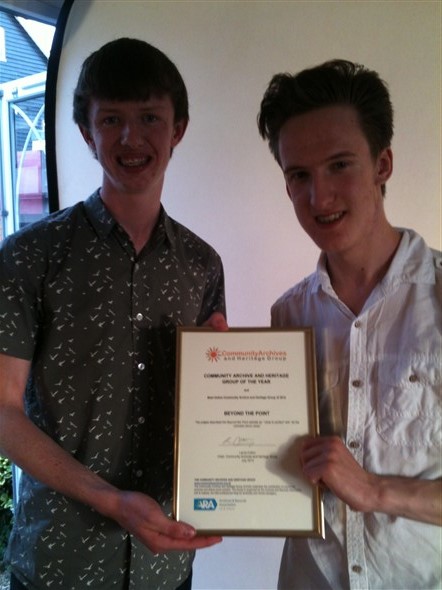 On 10 th  July our 'local lads' Liam & Joe, were awarded best website of the year and overall winners of the Community Archive and Heritage Group awards for 2012/13. Their entry shone through the other entries, which were of a very high standard.  In total 35 entries were received covering 4 categories: best online, best new community archive, most innovative and most inspirational. It is testament to Beyond the Point that they could have won in each and every category. The award was presented to them at the annual Community Archive & Heritage Group conference held at the University College, London by Dr. Nick Barratt.
A local more informal celebration and presentation followed at the  Oysterfleet , Canvey Island on 15 th July. Those attending the presentation included Sue Hampson  ( new  chair of Community Archive & Heritage Group) Dr. Nick Barratt ( author, presenter and historian) Sylvia James ( board member for Archive & Records Association), Cllr Jackie  Govier and Cllr Ray Howard.
A quote from  Laura Cotton,  the previous chair of the Community Archive & Heritage Group
Congratulations on Beyond the Point being the overall winner of the CAHG awards for this year.  When we wrote  to you initially we mentioned  how impressed we were with what you have done and that we would like you to speak at our annual conference on 10 July. If you can get half as much enthusiasm across in your talk as you did in your awards submission they'll love you.  Everyone just loved the idea of you going off and doing something practical.