We started out with great hopes of having a fantastic event but the gremlins were with us on the day and due to technical difficulties we did not have the pictures and film on the screen. This made it difficult for some of our speakers. We do apologise, we were using borrowed equipment and although when it was set it was working ok when we began the event it all went terribly wrong.
Nevertheless we had a great turn out with about 150 people attending. We had people from Channel 4 looking to interview some of the survivors. We made lots of connections with people we had met online and were given some new stories to add to the site.
We started with Graham Stevens outlining what, where and why it happened. Carol Mayston, from the Environment Agency talked about what is happening now. Barbara Roycroft told her family's story and Joan Liddiard read a new story about help coming from Leigh. Pat Smith talked about some of the stories she came across when she was researching her book. We were then going to show our DVD but that was not to be.
There was a vast amount of material around the hall with a display by the Environment Agency, another from the Netherlands Flood Museum, old newspapers and loads and loads of photos.
We would like to thank our speakers for working in difficult conditions, the War Memorial Hall for allowing us the use of the hall, the Town Council for their help and McDonalds for supplying the refreshments.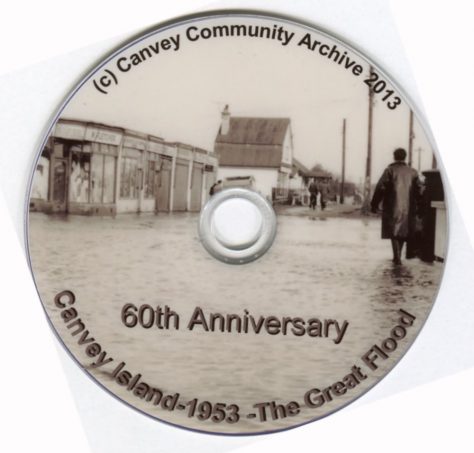 It is a shame we did not get to show the DVD we have produce in memory of the victims on the 1953 flood. The DVD was also on sale and many people bought a copy to take home. Some of the comments we have already received are – Brilliant – Great job – Well Done.
We still have some DVDs if you wish to buy a copy. They are £5 each plus P&P email jan@canveyisland.org All profits from the sale of the DVDs will be helping to keep the Archive online.
Lastly thank you all for coming.