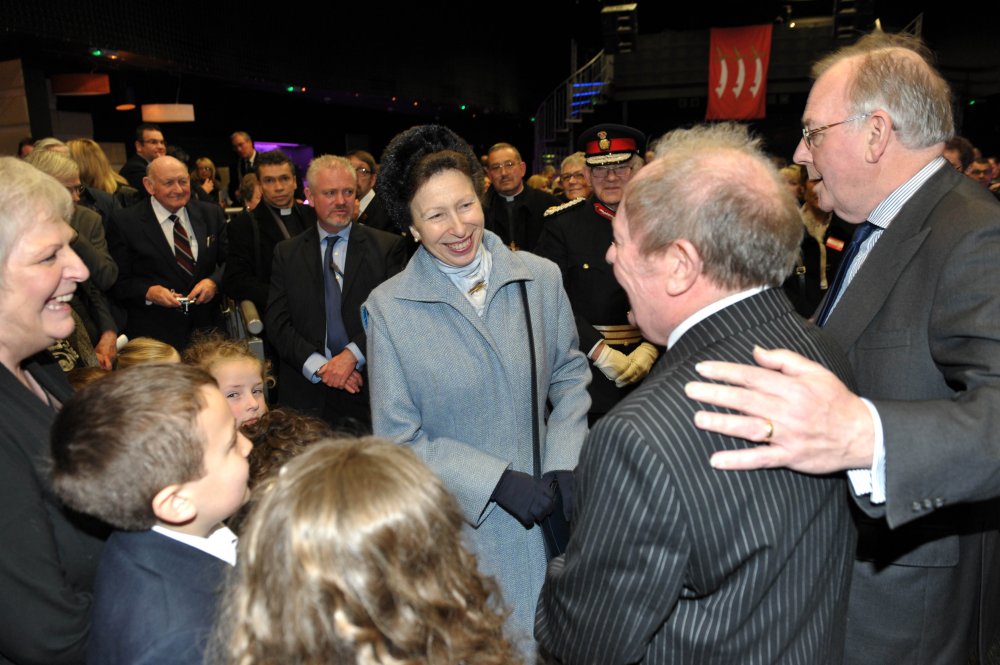 "Your Royal Highness, Lords, Ladies and Gentleman:
We are here today – in the presence of Her Royal Highness the Princess Royal – to remember and reflect on the great floods of 1953 which had devastating consequences for this country.
I was just a mere 11 year old lad, growing up on Canvey Island at the time of this terrible disaster.
I recall, the weather on that fateful night was foul – with a gale developing in fury – but this was not unusual for coastal areas, and of course it was January.
Although some had heard the radio warning of possible flooding, many were sleeping innocently in their beds, as the full extent of the danger was not conveyed to the population because it was not fully recognised. Nobody realised that the developing gale would cause such devastation to Britain's coastline and develop into such a tragic event in our history.
The housing on Canvey Island at that time consisted mainly of flimsy bungalows, which had at one time been holiday homes – and most of the roads were little more than dirt tracks.
Few homes had television or central heating to keep people from their beds, and so – with the wind howling outside – like most families that night, we were happy to go to bed. It was the cosiest place to be.
I recall I was woken up by my sister in the early hours of Sunday morning, saying that water was gushing down the street.
I looked out of my bedroom window and can remember seeing a huge wall of water surging towards us, which was coming from the northern side of the island, where most of the breaches of the sea wall occurred.
Our family was fortunate because we lived in a house at the time so unlike the majority of Canvey residents who lived in bungalows, we were able to stay upstairs.
Sadly though, many of the residents did not have that option and they had to cling onto the roofs of their properties, hoping to be rescued.
Tragically, 59 people were not saved on Canvey Island and they perished either by drowning or from the intense cold, but of course the rest of Essex was also suffering a loss of lives too.
I cannot remember how long we stayed upstairs in our house before we were evacuated by boat by the Emergency Services. The voluntary agencies also played a most important role.
We were eventually moved to a safer place where army lorries were ferrying people off the island. We were taken to the newly constructed King John School in Benfleet – which had been due to be officially opened on the 2nd February.
I believe we stayed at King John School for six weeks – and soon after arriving we were so delighted that Her Majesty the Queen Mother and her Royal Highness Princess Margaret came to visit us.
As you can imagine, this was a tremendous boost to the flood victims' morale – some of whom had lost everything and were completely demoralised.
Many fine individuals – too numerous to name – helped to rescue the people of Canvey Island, their possessions and pets – and to reinforce the sea walls which were breached.
The initial work to restore the Island to a habitable state was a tremendous exercise, which went on for months.
And the work to protect the island from this ever happening again has never stopped since. In the 40 years I have spent on the flood defence committee for Essex, many people have worked tirelessly to ensure that the legacy of that tragic few days has not been forgotten and I am now very proud to say that our county, including Canvey Island, now has some of the best flood defences in the country.
When I reflect on the tragedy and its aftermath, the question I always ask myself is 'Where would we have been without the bravery and determination of so many in our communities in Essex?' I have such memories of these good people.
It is a fact that tragedies such as these bring out the best in us and – as was demonstrated through the War – the British people have always had a sense of comradeship, and band together and support each other, and this – together with our good humour – has brought us through such crises, but it is now also a time to reflect on how we can make our communities safer and stronger.
Out of this terrible tragedy came some good; namely, the enormous generosity of the public, and in particular the local businesses and the local WRVS in Benfleet.
I should also mention the kindness of the Canadians who were moved to send relief packages thousands of miles across the Atlantic to brighten our spirits as we begun work to rebuild our lives.
Amongst the gifts we received were chocolates and fruit – especially bananas – and other goodies, which were particularly welcome as we were of course still subject to food rationing back then; but there was also bed linen, blankets and clothing, which were desperately needed.
Following that fateful night, I will always remember returning to my school, Canvey County, only to realise that some of our friends would not be coming back, and that some of them had lost parents, relatives and friends.
So this is our time to also reach out to all those communities that were affected in this country, as well as the communities in the Netherlands and Belgium who also lost so many of their citizens.
We, the survivors, thank each and every one of those wonderful people who helped to give back our island and our beautiful county of Essex for our future communities – and for this we shall be eternally grateful.
God bless you all – and thank you."