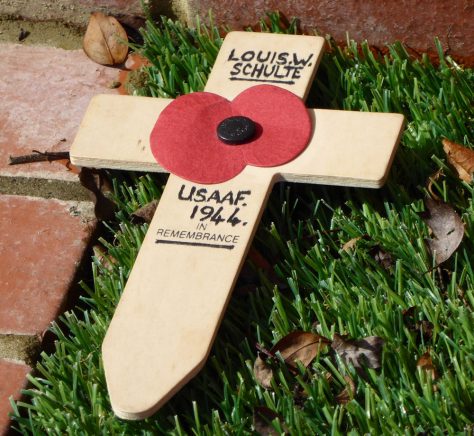 Today we had more visitors from the USA. Tom and Linda Schulte.
Tom Schulte is the nephew of one of the crew of Heavenly Body II the B17 that crashed off the Point at Canvey. His uncle Louis died in the crash, his body was found at Southend Pier.
Janet Walden, Dave Thorndike and I met with the Schultes at the B17 information board where we took some photos. We then showed them the Mural. We went on to the War Memorial where the original memorial to the B17 crash is situated. Here Tom was given a cross to place near the plaque.
Janet and I had to leave them then as we had a meeting to attend but Dave Thorndike took them onto the Bay Museum to see some of the artefacts there from the plane. I believe a small piece of the wreckage was given to Tom.
The couple had already spent Saturday and Sunday with Geoff Burke visiting Kimbolton, Madingley Cemetery and the  USAAF Museum at Duxford.
They fly home on Friday. Come back soon.