A Mammouth Task
Working together to save the Echo photo archive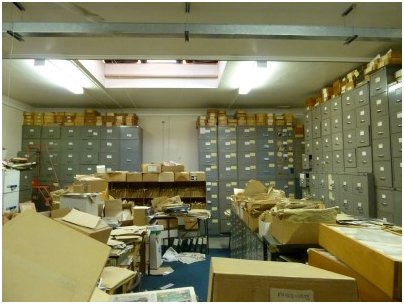 Some of you may have read a recent article in the Echo by Mike Davis of the Rayleigh Town Museum regarding the disposal of the Echo photo archives at Basildon. Along with the other community archives in the area we were invited to a meeting at Rayleigh Town Museum where we were given details of the situation and how we could help the museum save the archive. It was understood that we had anything from a week to three months to save as much as possible of the vast archive. I mean vast, with a guesstimate of over 2,000,000 negatives from the years 1960s-1990s. Thousands of printed photos. Cd-roms covering the period 2001-2011, Microfiche film of old newspapers and filing cabinets full of cuttings. As can be seen from the photos the job to clear it all was immence.
At the meeting it was decided all groups would arrange for volunteers to go in and sort through as much as possible placing them into large boxes for each group. Myself and Janet Walden were the volunteers from Canvey's archive and we arrived on the first Thursday and I think I can honestly say we were overwelmed with the task. There had been volunteers going in all week and already we had a large bin of photos and cuttings for Canvey. We visited twice more over the following two weeks again bringing away a load of photos and cuttings associated with Canvey. We also brought away large bags of items for the Transport Museum and the Bay Museum.
The last I heard most of the items had been cleared from the room and either destributed around South Essex or placed in storage. What seemed overwhelming had been achieved by everyone working together. It may be several years before all the items have been sorted and arrangements made for access to them but for the time being we at Canvey Archive have hundreds of interesting photos and newspaper cuttings some of which have already been published on our site.
We have a whole load of photos of Dr Feelgood which will be scanned at some point and may well be used for Chris Fenwicks, Dr Feelgood talk in July. But I think the best find we had and at just the right time was a large envelope of photos to do with the Oil Refinery protests from the 1970s. It has coincided with George Whatley's talk next week allowing us to also present a slideshow and a exhibition of photos to accompany his talk all coutesy of Echo Newspaper Group and Rayleigh Town Museum.
Keep a look out for new photos as they are scanned and uploaded to the site and come along to the War Memorial Hall next Wednesday at 2.15 for George's talk 'Say NO to Oil!', slideshow and exhibition. Entry £2.50 refreshments available.