You Are Hear at Canvey Island Library
This January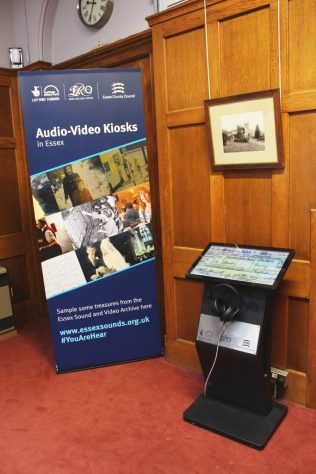 Hear the sounds of Essex, right here in the Library.
Did you know that the Essex Record Office, which cares for the county's historic documents, also looks after sound and video recordings? The Essex Sound and Video Archive (ESVA) collects sound recordings and videos covering all aspects of life and culture in Essex, and visitors to Canvey Island Library will be able to sample some of its treasures this winter.
As part of the Heritage Lottery Funded project, You Are Hear: sound and a sense of place, two interactive audio-video kiosks are touring public places across the county over the next two years. Canvey Island Library will host one of these kiosks from 6th January 2017 until the end of March. A third kiosk is permanently installed at the Essex Record Office in Chelmsford.
The kiosks are filled with a selection of recordings from the ESVA, including music, home videos from the 1960s, clips from oral history interviews, and documentaries about life in Essex. To coincide with the anniversary of the 1953 floods, you will be able to hear memories of people who survived the event and watch film footage recorded at the time.
You Are Hear is a three-year, £276,800 project to digitise, catalogue, and make available many of the historically significant sound and video recordings in the Essex Sound and Video Archive. The project is mainly funded by the Heritage Lottery Fund, with additional support from the Essex Heritage Trust and the Friends of Historic Essex. Visit the Essex Sounds website for further information, send us your suggestions of future tour venues or content for the kiosks, or see the ESVA website for more information about the services we provide.