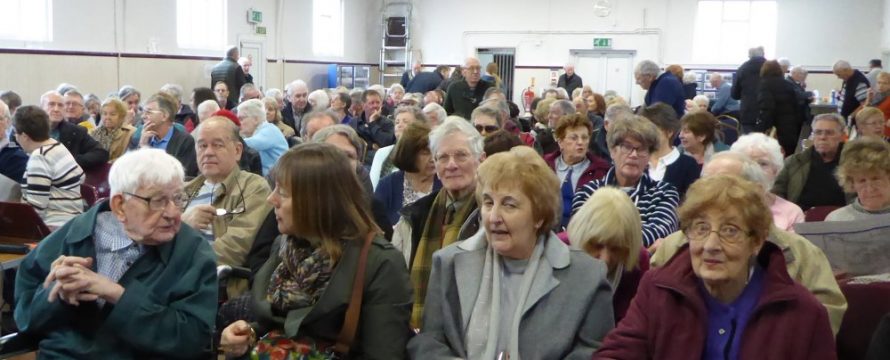 It was standing room only for our flood talk and exhibition. We had our largest ever audience with around 180 people in the hall. We ran out of space to put chairs, used nearly all the chairs stacked in the other room. We almost ran out of milk and biscuits. We had not expected such a large number of people. We started the talk a little late as we waited for the last to settle in their seats.
Janet Walden gave a great talk which latest just over an hour. The talk was illustrated by slides, some were about the people she was talking about, some were more general as it is difficult to find photos about individuals and indeed specific events such as when the wall first broke. It had taken a lot of work/research by Janet to find all the little anecdotes that she used to lighten the sometimes sombre events but they helped a lot and got everyone laughing. Towards the end of the talk we held a minutes silence in memory of all who died that day.
The exhibition, although small (we have much more we could have used) was very well received and got people talking and searching for those elusive photos. As well as lots of photos (all of which are on this site) we also had original old newspapers and a 1953 map showing the flooding around the coast of Essex. Plus a map belonging to the Canvey Urban District Council but with no date, it is from the time and still shows Tewkes and Smallgains Creeks before they were dammed. Marked on it are a series of numbers and marks showing where the wall either broke or had slippage. We assume this is from the flood of 1953 but unfortunately there is nothing on the map to confirm this, so we cannot say definitively.
We would like to thank everyone who came along.