Archive Meets the Bay Museum
November 2014
The Bay Museum was invited to give a talk about the setting up of the Museum and the history of the building it is housed in, the MOD degaussing station.
What a great turnout and a very interesting talk. I heard people saying that although they had been to the Museum they would be going again with new insight. Everyone stopped for a cuppa and as can be seen from the photos they were engaging with the displays and each other.
The Bay Museum did not charge us for this talk but we passed the hat round and raised over £50 for them. Thank you everyone who contributed.
Special thanks to Alan and David from the Bay Museum.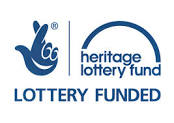 This event was put on with the help of our Heritage Lottery Grant.
Our next meeting will be on the 28th January where we will be having a 'slideshow' showing photos of Canvey in the 20s and 30s, christening our new equipment bought with our lottery grant.
Please come along everyone is welcome.