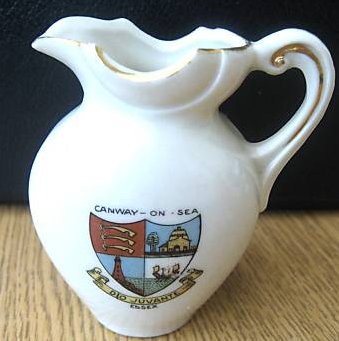 The Jug on the right
This jug must be from the same set as the souvenier Robert Hallman found.
Crested china jug with a crest with the motto reads 'Deo Juvante' – with God's help and CANWAY ON SEA – ESSEX
Apparently it has an impressed mark to base 'Germany 6987' and the height is approx 70 mm.
_________________________________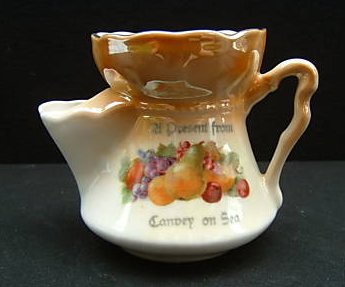 The mug on the left
This is a shaving mug said to be Victorian/Edwardian and says on the front 'A present from Canvey on Sea'.
Adorned with fruit on the front and plain on the back and orange lust finish.
Stands 3 1/2 inches high and 5 inches from spout to handle.
The base has a mark of ME Bavaria 18