When John retires the council goes with him.
echo 1974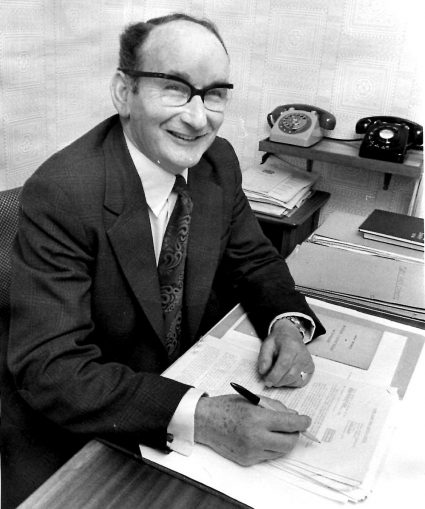 After 44 years a local government man, Canvey Chief Public Health Inspec­tor Mr. John Cook is to re­tire with his own council on March 31st.
He is the authority's longest serving officer and in his last council report headed "Environmental health and its Ramifications," Mr. Cook, 58, has related some of his fondest memories. Like the time he accidentally walked straight into Can­vey Lake "during thick fog." Like the early Canvey days when roads were scarce and pollution common. He can even boast he was at the opening of Canvey's first bridge.
Mr. Cook said: "I recall the grassed roads that became churned up mudtracks, mainly by horse and cart traffic. I also remember the snaking lengths of duck-board track precariously perched on one side of these quagmires called roads."
When he began his colourful local government career at Canvey in 1930 — just four years after the council it­self was constituted — his first job was to "change the paper roll in the Time Clock. "The buses had to stop and drivers had to 'clock on' every inward and outward journey to ensure their 'runs' had been made," said Mr. Cook.
Canvey's earliest days of en­vironmental health brought some vivid recollections. The young Mr. Cook had to deliver Council Minutes by hand, and on several foggy days "fell into dykes, walk­ed into the lake, and tripped over sitting cattle."
The early days also had pollu­tion problems. Mr. Cook explained in his re­port: "Only a minority of the homes and shops had water closets connected to cesspools. These became a public health nuisance. Pollution of surface water drains, dit­ches and dykes was com­mon."
The Island's first waste col­lection service was also in­troduced during Mr. Cook's reign. This comprised a horse and cart collecting rubbish from huge communal bins, "But for a long time many people failed to use the bins and buried their waste in their gardens instead." Mr. Cook added: "The rules at the waste disposal site were far less stringent than today, and I spent many a happy hour on Saturday af­ternoons shooting rats with an air rifle."
During the four years before World War Two Canvey's skyline and conditions started changing.
"I was the man on duty that fateful Sunday morning when war was declared," said Mr.  Cook. He also played a key role in Canvey's tragic 1953 emergen­cy flooding measures. I was involved in the essential but unspectacular task of ensuring adequate and safe public drinking water during the floods." Mr Cook went on: "We had to clean tons of foodstuffs, refuse, dead goats, domes­tic pets and cattle to keep the water clean."
The memories are still there, but in just over two weeks time Mr. Cook and Canvey Council will both retire. Canvey will hand over its responsibilities to the new Castle Point authority, and John Cook will settle down to a well earned rest at his island home.