It's a major shiner!
Evening Echo 1986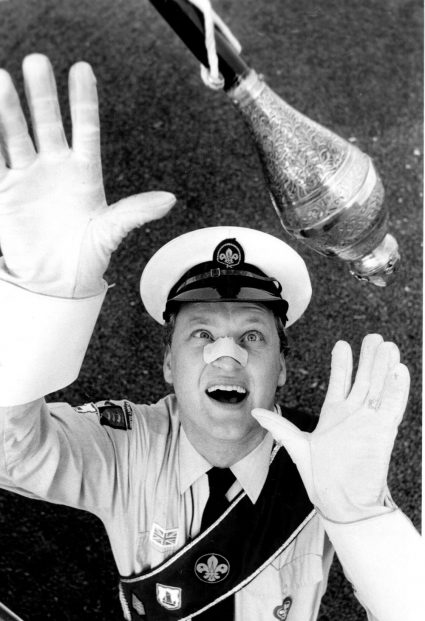 The Echo article read:-
Clumsy bandmajor Bradley Cox was injured when he dropped his mace smack on his nose.
His eyes watered and face reddened as he caught sight of a few young Canvey band members giggling at his misfortune. But brave Bradley soldiered on with his sore and swollen nose to the end of the parade and the accident has not put him off marching.
He said: "My eyes watered and my nose has come up in quite a bump. And it's turned a rather strange colour." Bradley, of Laburnum Grove, Canvey, is leader of the 4th Canvey sea scout band.
The painful accident was at the 4th Can­vey scout group's summer fete on King George's playing fields, Canvey.
Bradley, a 24-year-old Pc at South Woodham Ferrers, said: "I think the problem was I spent too much time in the beer tent. We were Happily marching along playing our trumpets and everything was OK. Then we had to stop and on the drum roll I threw the mace into the air.
But I completely missed it and the bulbous brass bit hit me smack on the nose. It was embarrassing because all the people were watching and I could see some of the children laughing. But like a true professional I carried on shouting the orders until the end of the parade."