Falklands riddle of seaman Peter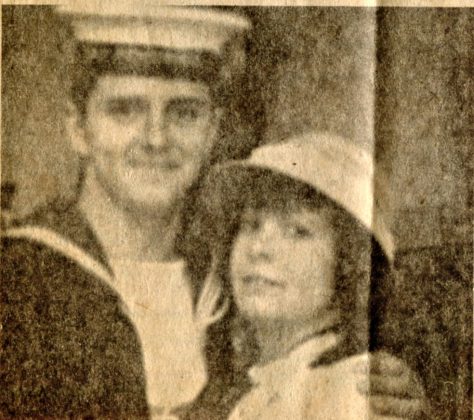 A young Canvey wife was today desperately waiting for news of her sailor husband on board the destroyer HMS Coventry when it was blasted by Argentine jets. So far the only news known to 19-year-old Jill Bradford and her family is that Peter was not among the 20 seamen killed in the terror attack which left the warship a capsized, burning hulk. But they do not yet know if he was one of the 20 injured. Jill is staying with her parents, Peter and Eileen Bambury at their home in Park Road, Thundersley. She has spent hours anxiously worrying since the first reports of the disaster. Mr Bambury, 42, was today back at his job as a machine minder with printers Essex Web Offset in Magnolia Road, Rochford, to put on a brave face for his daughter.
Confused
But he said he was still ringing the emergency num­ber at Peter's Chatham base every half an hour to see if any more news had come through. Peter and Jill have been married just a year. Their anniversary is on Saturday. Mr Bambury said his daughter had knitted her hus­band a jumper and sent it out as an anniversary pre­sent for him. He said: "She is con­fused, but she is taking it all very well. We have been playing it down for her sake. That's why I came into work." Mr Bambury said Peter who is thought to be one of the missile operators on the Coventry joined the ship just after Christmas and they had not seen him since then.
Peter's parents live in Benfleet, but his father, who works for Texaco on Canvey, would not talk about his son today.
Informed
A Defence Ministry spokesman said a casualty list of dead and injured from the Coventry, which was a sister ship to the ill-fated HMS Shef­field, would not be released until all relatives had been in­formed.
Meanwhile with British troops on the Falklands now poised to make their main thrust towards the capital of Port Stanley Defence Secretary John Nott was today spelling out the details to his colleagues in the so-called War Cabinet. Some MPs believe the main push is either about to begin or that it may even have star­ted. British intelligence and diplomatic officials are keeping a watch on attempts by Argentina to replace weapons lost in the fighting. They are concerned at at­tempts to replace the deadly, French-built Exocet missile, which has already claimed the destroyer Sheffield and the cargo ship Atlantic Conveyor. Argentina is scouring the world arms markets for replacements, but British of­ficials have already urged a large numbers of governments not to resupply them while fighting goes on.
The cost of the war in the South Atlantic has now soared to over £1,000 million, it is estimated today. This has not yet blown the government's economic strategy off course. But if the battle for the Falkland Islands grows more serious and drags on, it threatens to force up taxes or cut public expenditure even further.