Lament of the blown-up bagpiper
Echo clipping 1983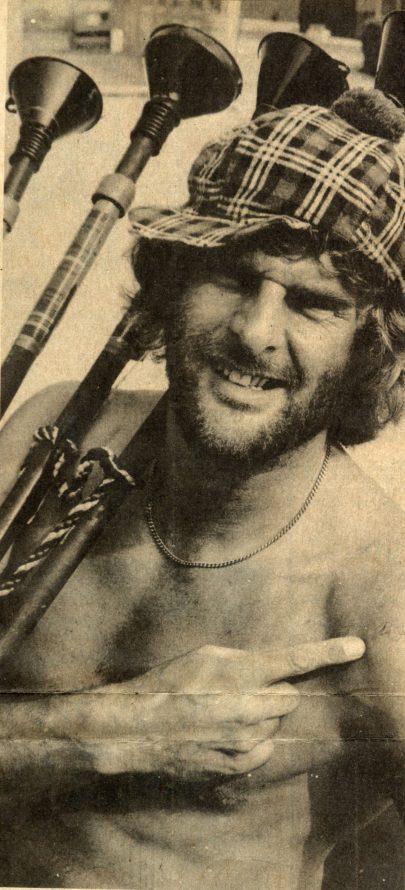 Johnny Madman Clark had a taste of tartan terror when his exploding bagpipes blew up without warning and sent him reeling. Johnny, known as the mad DJ, who is entertainments manager at the King's Club, Canvey, was today nursing an injured shoulder and feeling a bit of a haggis.
The cabaret performer could still hear ringing in his ears and was counting his lucky stars that the incident was not worse. For 10 years, Johnny, 35, has been safely setting up his act and performing with the exploding bagpipes, which use a theatrical firework known as a maroon. He said: "I was wiring up the exploding bagpipes and forgot the maroon was on them. They exploded and took a chunk out of my left shoulder. I couldn't hear a thing except whistling."
Johnny was ordered by his doctor to rest for two days, but he says it will be business as usual as the club tonight.
Doctor
He said: "I was lucky. But I wouldn't like anyone to think that I do with my exploding bagpipes is dangerous to peo­ple who see the act. My show is properly con­trolled, and it's the first acci­dent I've had with the bagpipes in the 10 years I've been using them."
Johnny was kneeling to set them up on the stage when the accident happened on Wed­nesday night. He said: "I went to the doc­tor, and my eardrums are all right."
Johnny has just made a record called He's a Wally, which is being released next week.