Old double-decker's new lease of life
Echo clipping 1988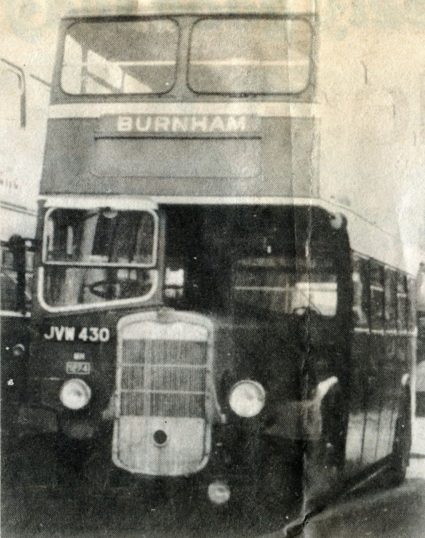 Bus barmy preservationists have welcomed home an old friend after a 452 mile rescue bid saved her from the great depot in the sky.
When the Canvey based Eastern National Preservation Group heard the only surviving wartime JVW 430–double decker bus was in peril from a Scottish scrap crusher, they rallied to punch up the £5,000 needed to buy her back.
The bus, which experts estimate has clocked up over one and a half million miles, is one of only two built as an emergency measure during World War II later carrying building workers to Bradwell Nuclear Power Station.
Group spokesman Mr Doug Payne explained the die-hard double decker was unique because it was built from a pre-war chassis, with the prototype bus body intended for post war use. He said only two of the buses were built to help ease the chronic shortage of public transport in 1944.
It was not until 1964, after 20 years pounding the county's roads, that Eastern National retired the old -trooper. She was sold to a company in Wales, which sold her to a firm in Scotland. It was in Perth that the preservationists finally caught their bus.
Now safely tucked up beside more than 30 other buses and coaches at the Transport Museum, Point Road, Canvey, the bus can look forward to a complete new paint job and seat renovation. Mr Payne said: "It will probably cost another £3,000 to bring it up to scratch and we hope to have the work completed by next May."
Then it should be a life of comfort and glamour for the old double decker, on show at the museum, touring rallies and even taking a few bit parts in period film and TV drama.