Rare breed leaves island health post
Canvey Health Centre 1989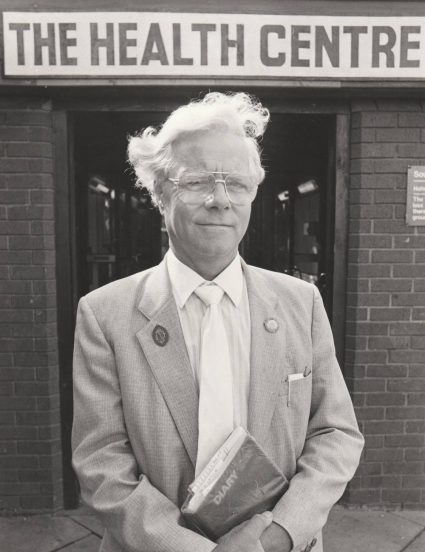 From an Echo clipping dated 1989
The retirement of a Canvey senior district nurse will mean the end of an era for the island. For when Jim Webber, 59, of Holbeck Road, leaves in Septem­ber, Castle Point district loses its only male district nurse.
As a district nurse for 22 years, Jim is a rare breed — he reckons there are only about six men out of 450 district nurses in Southend Health Authority. He decided to become a nurse after two years in the army medical corps in 1948 to 1949. His training and career took him from Leytonstone to Orsett and from geriatric wards to industrial nursing.
In 1967 Jim joined Southend Health Authority as a district nurse, based on Canvey, and has been there ever since. He said: "For the first few years I did Canvey and South Benfleet on my own, all the male cases, right up to the early 1970s. "As things got better they em­ployed more people and I came back into Canvey again."  Although he started off treating only men, in the last four or five years treatment has opened up and Jim now has women cases as well.
The work of a district nurse includes changing dressings and giving medication to people out of hospital, looking after babies from 10 weeks old and some not-so-usual jobs.
Jim recalled his funniest mem­ory: "We did have a lady once who used to get the junior nurses to bath her husband, then when they'd finished they had to bath the dog in the same water!"
But he has also seen some changes, not just the treating of both sexes: "Things have improv­ed tremendously for the patient, no doubt about that. "The monitoring and care of the patient has improved."
For the past 12 months Jim has been winding down, working 24 hours a week instead of the normal 37½ so he will be better prepared for retirement.
Married with two young chil­dren, three grown-up children from a first marriage, and two grandchildren he will have plenty to keep him busy as well as his hobbies of oil painting and travelling.