Shipbuilding baron killed in bike crash
Echo cuttings 1989
Whilst looking through our thousands of Echo Archive newspaper clippings I came across the name Baron Peter de Tourtoulon. Imagine my surprise when I read it. I had never heard of him and asking around not a lot is remembered. The boatbuilding business was at Charfleets where it burnt down in the 70s. We have managed to find out what happened after the fire with a clipping from a paper up north dated 1973. If you can tell us more please comment below.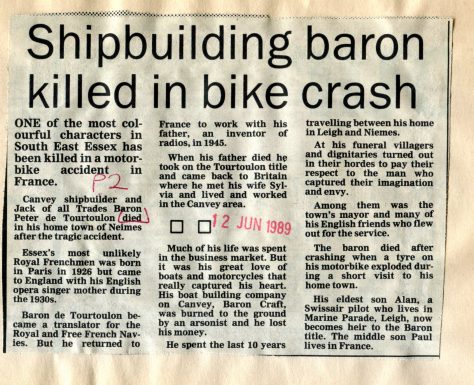 One of the most col­ourful characters in South East Essex has been killed in a motorbike accident in France. Canvey shipbuilder and Jack of all Trades, Baron Peter de Tourtoulon died in his home town of Neimes after the tragic accident.
Essex's most unlikely Royal Frenchmen was born in Paris in 1926 but came to England with his English opera singer mother during the 1930s. Baron de Tourtoulon be­came a translator for the Royal and Free French Nav­ies. But he returned to France to work with his father, an inventor of radios, in 1945. When his father died he took on the Tourtoulon title and came back to Britain where he met his wife Syl­via and lived and worked in the Canvey area.
Much of his life was spent in the business market. But it was his great love of boats and motorcycles that really captured his heart. His boat building company on Canvey, Baron Craft, was burned to the ground by an arsonist and he lost his money. He spent the last 10 years travelling between his home in Leigh and Niemes.
At his funeral villagers and dignitaries turned out in their hordes to pay their respect to the man who captured their imagination and envy. Among them was the town's mayor and many of his English friends who flew out for the service. The baron died after crashing when a tyre on his motorbike exploded dur­ing a short visit to his home town.
His eldest son Alan, a Swissair pilot who lives in Marine Parade, Leigh, now becomes heir to the Baron title. The middle son Paul lives in France.
1973 Newcastle Evening Chronicle
Peter eats his words………….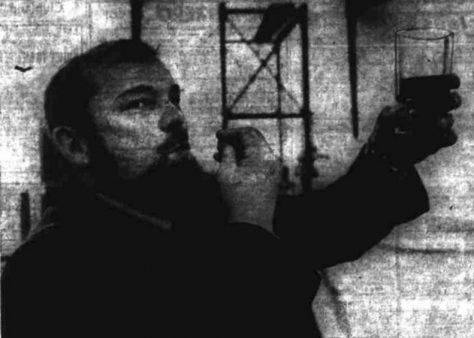 Factory boss Peter de Tourloulon toasts to a good New Year . . . as he eats his words about Geordie workers. For he's raked in almost £1.500.000 of orders for fibre-glass boats built by his firm, Baroncraft, at Washington. The firm moved into the new town about two months ago and was initially plagued with labour problems.
Now the company is in full production employing 50 to turn out more than 700 cruisers for European orders. Some of the boats will be used by pleasure cruise firms on the Mediterranean. Baroncraft, owned by Peter's wife. Sylvia, moved to Washington after a fire destroyed its works at Canvey Island.
Peter, aged 47, said: "At first we couldn't get anybody willing to work and orders were jeopardised-we thought Geordies weren't interested in working. Now we're doubled our initial expectations for employment and are really keen on Geordie workers—they're making things hum."
Peter, who has Cockney accent and a claim to a French title, came to Britain from France more than 30 years ago.
" If things continue to go this way for the firm I'll soon be speaking with a Geordie accent myself," he said.