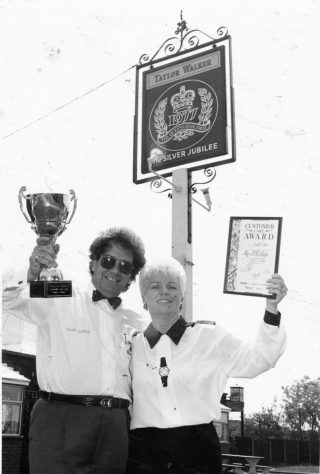 Alan and Debbie Watson were awarded The Taylor Walker Customer Care Award at the Silver Jubilee in 1993.
From the clipping associated with this photo:
CUSTOMER care at the Silver Jubilee Canvey amounts to more than a dish of peanuts on the bar and a beer mat. Husband and wife team Alan and Debbie Watson have just been awarded the Taylor Walker Customer Care Award for 1993.
The award is the top prize in a scheme which tests the service in 600 pubs around the UK. Undercover assessors visit pubs and award marks for smart, friendly staff, clean buildings and general standard of service.
The assessors can visit six times in a year and Alan and Debbie were awarded first prize after receiving top marks on all six occasions. They won a silver trophy and can look forward to a trip to Vienna on the Orient Express.
Alan said: "We got another surprise after the presentation.
"The assessors came in and awarded the pub another set of full marks before revealing their identities. "This is rare as usually you don't know they have been." Alan is no stranger to being top of the charts. In May 1964, his band Migil 5 were at 2,11 and 13 in the hit parade. Their best known song was Mockingbird Hill.
From the Echo Newspaper Archives