Bert's Return to Island
the worms did a good turn
From the Echo Archives a story of Reclamation by Jim Worsdale dated 1993.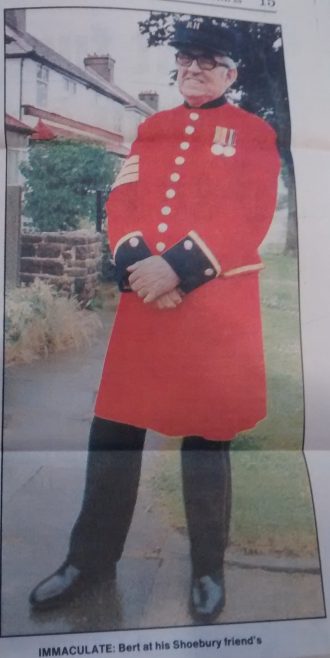 Chelsea Pensioner Bert Bowers has just been back to Canvey for the first time since the flood disaster of 40 years ago and revealed the remarkable story of the invasion of the island by millions of imported worms. The wriggly visitors were shipped from Holland and handed out by the bucketful to survivors bidding to reclaim their homes and land after flood waters finally receded.
Sgt Bert, now 83 and chief guide at the world famous Royal Military Hospital in London said: "I remember making several trips with my father-in-law, whose bungalow on the island was submerged and badly damaged, to collect worms.
They were the earthworm variety, which were released in gardens all over the island to help to begin to drain the soil and make it fertile again after the effects of the salty seawater."
Bert, who lived with his family in London at the time, had taken wife Eileen to her parents' home in Rose Road so she could rest in the final weeks of pregnancy. She would make Bert a dad for the fourth time with a daughter born in April.
But before that happy event Bert, Eileen, her parents and others in the family had to join the evacuation from Canvey in that flood tragedy that claimed 58 islanders and hundreds more throughout Britain. Bert travelled to the island from his London home and job at weekends immediately afterwards, to help collect and spread the worms and to help clear up, but he never went back to Canvey from the spring of 1953 until just the other day.
Tall, upright, in his Chelsea Pensioner uniform immaculate, buttons shinning brightly, he came by car from his hospital home of the past 10 years.
A Southend man who met him by chance on a tour of the home of 400 old soldiers brought him back for a day's tour and for dinner, shunning publicity for himself while alerting the Echo of the visit. Over afternoon tea at a friend's Shoebury home, Bert said: "My wife was taken into Rochford Hospital after I returned to work in London. I used to come down by train to see her, but visiting hours were strictly limited. I was pretty hard up and couldn't afford the fare too often or digs to stay at.
One evening after visiting her I decided to go into Southend and kip on the beach, under the pier. I planned to freshen up in the tide next morning. I'd been asleep a couple of hours when a large copper woke me. He found it hard to believe my story and asked me to go with him to the old police station off the High Street while a phone check was made with the hospital.
Immediately they confirmed my tale they gave me a cell and bed for the night, a place for a clean-up in the morning and then eggs and bacon breakfast. They even took me by car to the hospital."
Bert did a variety of jobs before retiring and then moving into the Chelsea Hospital, where he heads a team of guides who conduct tours for visitors from all over the world.
The daughter born at Rochford weeks after the floods lives now in Bristol. Bert found it difficult to recognise much of the vastly changed and expanded Canvey when taken on his tour. But he visited Rose Road, where his father-in-law Bill Reeve had his home long ago and he went along the High Street and London Road towards the Haystack, where he was confronted by a wall of water half a lifetime ago.
He said: "I pulled a toddler from a water filled. foul smelling ditch the day after the floods. We took her home to warm her and clean her up before we heard police searching for the missing child. I wonder what ever became of her?
I also remember staying a few nights in a little house just off Southend seafront, recommended to me by the police, while my wife was still in Rochford Hospital."
Bert Bowers himself will always be remembered. A portrait in oils by Leonard McComb, hangs in the gallery of the Royal Academy. Copies of it in postcard form have also been distributed.
Old soldiers never die. They only fade away.