The Easter crusades
Echo 1992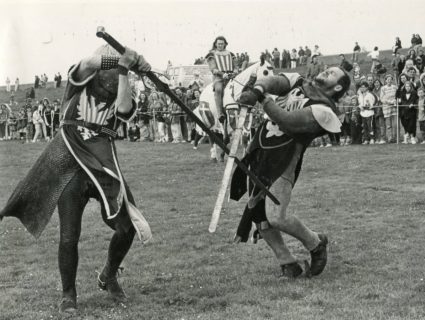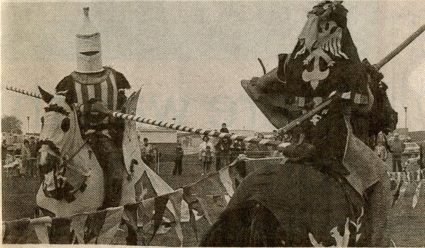 Good knights joust for fun at seasonal celebration
It was joust for laughs at a Canvey Country fair when the gallant Black Knights charged
onto the arena wielding razors sharp spears.  Forces of good and evil clashed in spectacular style, roared on by crowds baying for action. But once the frightening medi­eval costume came off everyone went home all smiles after the Easter excitement. The action packed match prov­ed a big hit with families who invaded the Kings Holiday Club to watch the jovial jousting.
The Hindles Road club's 3,000 car park was jammed with crowds jostling to enter the first country fair held by holiday chiefs. Surrounding the main arena were children's rides, a mini-zoo, market pitches, a car boot fair, clay pigeon shooting and craft stalls.
The bank holiday event was organised by bosses from the island's Charfleets market and Kings Holiday Club. An official said: "We had a car park designated for 3,000 cars which was full. We didn't realise it would be this successful, it's the first time we've decided to try anything like this but it seems to be popular."
Plans for a return match next year are already under way because of the massive response. The official added; "Thankfully no one was hurt. They are all experts at looking menacing but not actually getting carried away."