The Seawall Did Not Hold
Watersnood Museum Guide
A little while ago I was asked to do an interview which would be included in the Watersnoodmuseum guide. (The Dutch Flood Museum in Owerkerk in the Netherlands) 
This is the result. Did not realise I would be on the same page as Princess Ann! In fact Nellie did not know she was even going to be in it. But a good plug for the archive and once again shows the Canvey – Dutch connection lives on. 
Below is a translation supplied for us by Nellie Verton.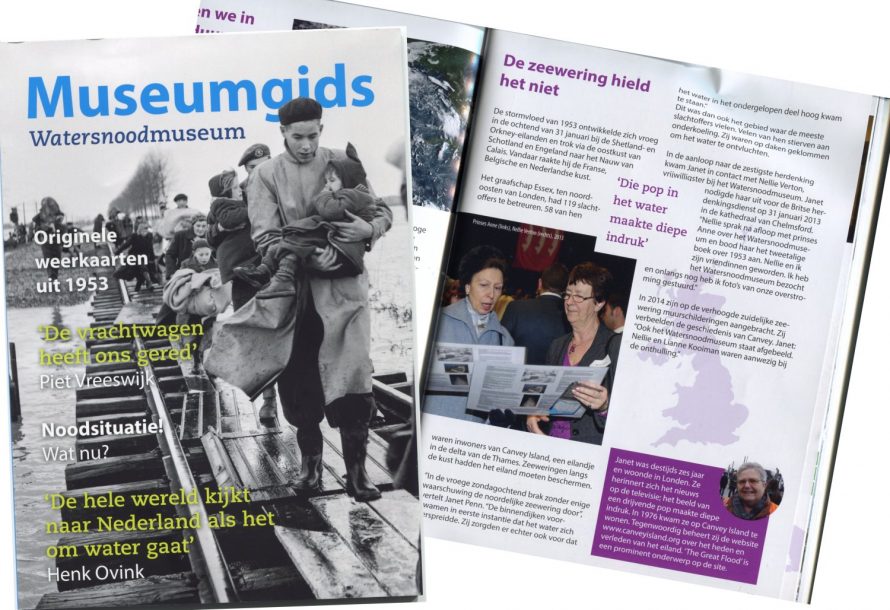 The sea wall did not hold
The Flood of 1953 developed early in the morning of 31 January near the Shetland and Orkney islands and moved along the east coast of Scotland and England to the Strait of Dover, before hitting the French, Belgian and Dutch coasts.
119 people lost their lives in Essex, a county to the north-east of London. This number included the 58 victims on Canvey Island, in the Thames estuary. The sea wall should have kept the island safe.
'In the early hours of the 1st of February, the sea wall nearest to the mainland went with little warning', says Janet Penn. 'The inner counter walls initially kept the water from spreading, but this also caused the water in the flooded areas to rise even further.'
This was the area where most victims lost their lives. Many of them died of hypothermia, after climbing on the roofs to escape the rising water.
In the run-up to the sixtieth commemoration Janet met Nellie Verton, a volunteer at the Watersnoodmuseum. Janet invited her for the Commemoration Service in Chelmsford Cathedral on 31 January 2013.
'After the service, Nellie spoke with Princess Anne about the Watersnoodmuseum and presented her with a bilingual book about 1953. Nellie and I became friends, I have been to visit the museum, and I quite recently sent them further photographs of our Flood.'
In 2014, murals representing Canvey's history were painted on the sea wall which had been raised after the Flood. Janet: 'The Watersnoodmuseum is included in the theme of the Flood. Both Nellie and Lianne Kooiman were present when the murals were revealed.'
Janet was six at the time and living in London. She remembers the news broadcasts on television; the sight of a doll floating by had a huge impact on her. She moved to Canvey Island in 1976, where she joined the Canvey Community Archive website www.canveyisland.org which prominently features 'The Great Flood'.