87 Hours
Man who starved in bed as floods lapped coverlet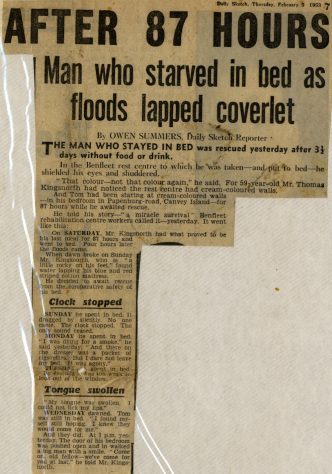 The man who stayed in bed was rescued yesterday after 3 ½ days without food or drink.
In the Benfleet rest centre to which he was taken—and put to bed—he shielded his eyes and shuddered,
"That colour—not that colour again," he said. For 59 year-old Mr Thomas Kingsnorth had noticed the rest centre had cream-coloured walls. And Tom had been staring at cream-coloured walls —in his bedroom in Papenburg Road, Canvey Island—for 87 hours while he awaited rescue.
He told his story—" a miracle survival" Benfleet rehabilitation centre workers called it—yesterday. It went like this:
On Saturday, Mr Kingsnorth had what proved to be his last meal for 87 hours and went to bed. Four hours later the floods came.
When dawn broke on Sunday Mr. Kingsnorth, who is "a little rocky on his feet," found water lapping his blue and red striped cotton mattress. He decided to await rescue from the comparative safety of his bed.
Sunday he spent in bed. It dragged by silently. No one came. The clock stopped. The only sound ceased.
Monday he spent in bed. "I was dying for a smoke," he said yesterday. "And there on the dresser was a packet of cigarettes." But I dare not leave my bed. It was agony."
Tuesday I spent in bed. By evening I was too weak to look out of the window. "My tongue was swollen. I could not lick my lips."
Wednesday dawned. Tom was still in bed. "I found my­self still hoping. I knew they would come for me."
And they did. At 1 p.m. yes­terday. The door of his bedroom, was pushed open and in walked a big man with a smile. "Come on old fellow—we've come for you at last." he told Mr. Kingsnorth.