After the floods
by Fred McCave 1981
A lot is talked about the floods of 1953 but not so much is spoken of Canvey's rise from the waves. Fred McCave in his Canvey Chronicle page in The Bulletin 1981, does just that. There are facts and figures galore. Thanks Fred for recording these for us:-
"Being a democracy we often tend to take our politicians with a bit of salt. We are inclined to think that – just sometimes – they might even talk for the sake of talking".
If Mr Braine (the late Lord Bernard Braine) lived for a 1,000 years he would never say truer, more apt, words that he did on that occasion. In a few words he put before the oldest and greatest assembly in the world the simple faith, hopes, aspirations and beliefs of a stricken Island.
Nearly 20 years later I wrote that in 1953 he 'laboured without stint to better the conditions and to restore the area. His voice was never silent locally or in the House of Parliament and he can truly claim to be one of the architects for the new, improved, safer Canvey which emerged from that period'.
It says much for the man that he had realised the Island's creed and had not hesitated to say it before the greatest in the land. Before Mr. Braine had spoken there had been some defeatist talk – not, I hasten to say on Canvey, but elsewhere – where it had even been suggested that the Island should be permanently evacuated or slightly less seriously that parts should be 'thrown to sea' and not permanently reclaimed again. After Mr. Braine had spoken no more nonsense like that was heard although there was a possible threat at one stage.
On Wednesday, March 4, 1953 the Lord Mayor of London (then Sir Rupert De la Bere) toured the flood-stricken land and handed over a cheque for £20,000 from his fund to Council chairman Fred J. Leach and Council Clerk Reg. Whitley. The month saw a degree of normality returning with the first wedding on the Island and Island teams again playing soccer after a four week lay-off. Then came the new threat to Canvey.
Sir Alan Herbert suggested in a County newspaper (The Essex Chronicle) that Canvey should be sacrificed to save London in times of flooding. Here I personally had to intervene and the newspaper subsequently published a reply from me (an article under the heading – 'McCave of Canvey sends a challenge and tells Sir Alan Herbert he's wrong'). I turned down his defeatist attitude and suggested the remedy was a separate Government ministry to organize, co-ordinate and deal with our flood defences. I challenged him to 'come down to Canvey and to a mass meeting of our inhabitants' give those views. At the time I wrote 'I know what reply you will get. Without searching my memory I can give you the names of at least 20 who will tell you where you are wrong'. I ended 'No, Sir Herbert. Canvey honours those who died in the floods. A LIVING Canvey Island will be a permanent memorial to them'. Sir Alan did not accept my challenge and, as in the past, nothing more was heard about these views of his. However, later in March a Coastal Flooding Committee was set up, known as the Waverley Committee after the Rt. Hon. Viscount Waverley who visited Canvey.
As Island schools re-opened – Leigh Beck Primary and Canvey Primary on March 2 and Canvey Island Secondary School in March the extent of their damage was reported. At Long Road Primary, during the flood aftermath a canteen, built to serve 375 meals a day did in fact produce 900 meals a day. It was open from morning until late at night with teachers and canteen staff working.
Island flood grief gave way to sorrow for the death of Queen Mary who had been keenly aware of the Island's losses when she died on Tuesday night, March 24, 1953 Canvey mourned with the rest of the nation.
Now, occasionally, were coming the valour awards. 2nd Canvey Troop Scoutmaster Arthur Bishop, J.P. got the Scout Medal for Meritorious Conduct for his flood rescue work. Scouts, who had played a valiant part in rescue work were still helping to clean up, between 300 and 400 Scouts and Guides were assisting.
Queen Mary's death had reminded the Island of the world outside its immediate boundary and further proof of Canvey's recovery was shown when the Coronation of Queen Elizabeth was discussed. A large majority of Councillors voted to proceed with the festivities. A proposal to cut the celebrations estimate from £500 to £200 was defeated.
Those who died in the flood were sharply recalled to mind when a mass memorial service in their memory took place. Canvey War Memorial Hall, whose opening anniversary will never be forgotten, had had to cancel a week of celebrations because it became a meals' centre for workers. As a result of the flood (against which it was not insured) it was damaged to the tune of £340 and if plaster work was replaced this would cost £150. There was also £375 outstanding for the building of the hall. Then came a long awaited announcement. The Islanders would hear plans for the new sea defences. The meeting was scheduled for Thursday, April 30 – at the War Memorial Hall.
When the gathering took place it was the best attended in the Island's history. Those present were told of a £500,000 plan to make the Island's walls the safest they had ever been raising them between two and three feet. Steel sheet piling would be used and two creeks (Tewkes and Small Gains) dammed. They were told that it was already underway. Some idea of the magnitude of the Herculean task facing those responsible for putting the Island's defences beyond peradventure can be gauged when it is considered that of 839 breaches along 310 miles of seawall controlled by the then Essex River Board 51 took place in Canvey's 15 miles of seawalls.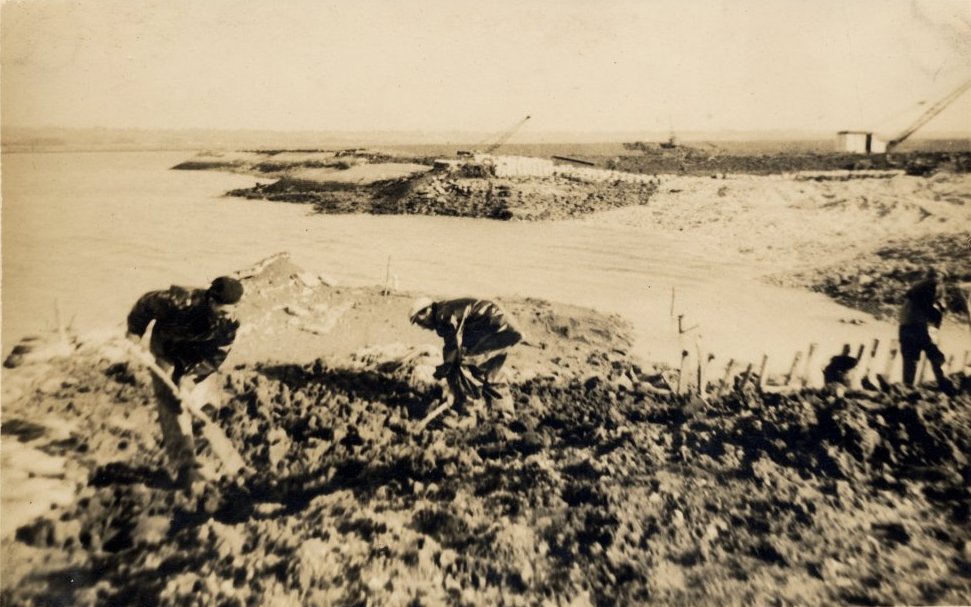 By May of the following year (1954) it was possible to report that along five miles of the wall fronting England's greatest waterway, the River Thames, and along the badly breached wall around Sunken Marsh, interlocking steel sheet piles had been driven into the seaward side of the wall. On the upper part of the clay barricades concrete block facing had been laid jointed in bitumen. The piling had been reinforced with thousands of cubic yards of clay along about a mile of the wall. The two clay dams had also been faced with concrete blocks and stone. They held about 50,000 cubic yards of clay.
Statistics are commonly regarded as boring except to the specialists but the figures for this particular operation were of vital importance to the whole of the Island's population who had now returned to their homes, determined to restore Canvey to a pre-eminent position in the country. The concrete blocks used, would if laid in an edge to edge single line extend for 83 miles. Over half-a-million cubic yards of clay dug from 'borrowpits' on Canvey had been deposited on the wall. Driven on a frontage of seawall of five-and-a-half miles were 2,000 tons of interlocking steel sheet piling. To reinforce the piling five miles of second-hand London tramrail had been used. Bedded in the seaward side of the seawall were over a quarter of a million of the ubiquitous concrete blocks – a total of 350,000 to them.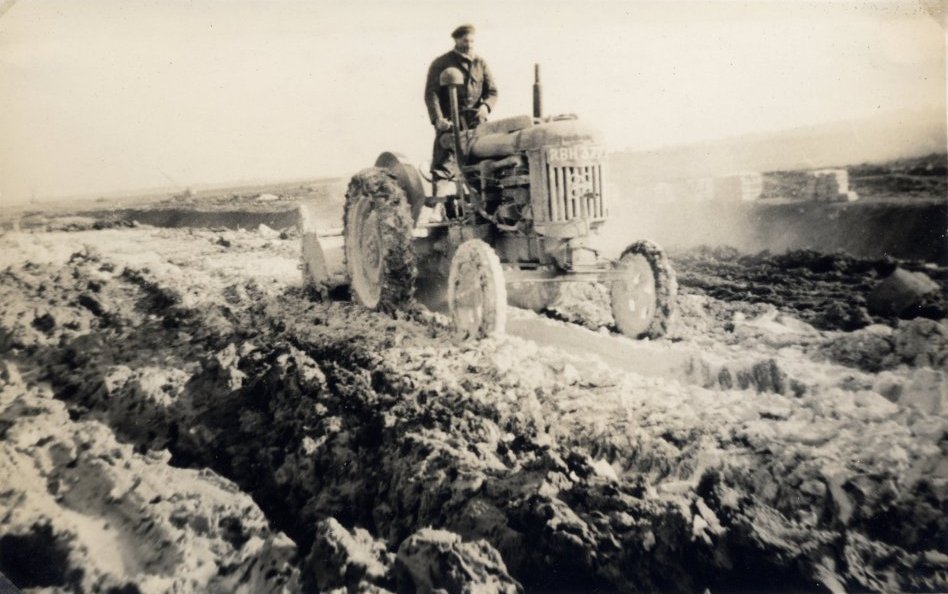 The Island echoed to the work of the men as they excavated, sank piling and laid clay. At the peak of the work there were 50 mechanical diggers 20 bulldozers and 70 lorries engaged. The labour strength consisted of about 450 men. This was a massive show of force and technological skill backed with the expertise of many 'back-room boys', the boffins of peacetime who were fighting a far more cruel enemy than had ever attacked the Island.
Previously when flood ravages – on a smaller scale – had had to be tackled there was very little in the way of mechanical labour. Horses and carts were the most of which they could boast plus the strong muscles of British workmen. But now it was different. Money and materials, men and machines poured onto the Island to erect barricades the like of which had never been known before. The work that had started in those desperate months of '53 and which reached a climax in the merry month of May a year later were to be continued until the whole of the Island was girded by a massive ring of steel and clay, concrete and bitumen which was also to be the envy of other nations. Seagirt parts of Europe who also knew, to their bitter cost, the terror of the ravening tide have sent representatives to inspect these superb bulwarks. It was indeed appropriate that so much should have been achieved in so short a space of time for the work was to be inspected by a Royal visitor.
On Saturday, May 15, 1954 Her Majesty Queen Elizabeth 11 returned to the United Kingdom from her successful Commonwealth tour. The Queen was in the Royal Yacht, H.M. Britannia escorted by the Daring class ships, Duchess and Decoy. Midway between Shoeburyness and the Isle of Sheppy they parted company with the Royal Yacht. The escort was taken up by four Gay class fast patrol boats – Gay Bombardier, Gay Charioteer, Gay Charger, and Gay Fencer. As Her Majesty went up river towards Canvey Island a 21 gun salute was fired from the Centre Saluting Battery at Sheerness. Off Southend the Trinity House vessel Patricia took up station ahead of the Britannia and a Port of London Authority barge Nore advanced ahead of Patricia. Three Metropolitan police launches joined the convoy later up-river.
Meanwhile, at Canvey, crowds thronged the newly-finished seawalls. It became a huge natural grandstand for this heart -stirring Royal event. Some people were really determined not to miss the event and they had camped out all night on the seawall. There were hundreds of boats out on the water for the occasion. As the Royal yacht approached Canvey Island the Island's own flotilla of light craft went out. They were so proudly led by Commodore Arthur Rapkin of The Island Yacht Club. On this gay, triumphant occasion I recalled a grimmer occasion 14 years before when the Thames had been alive with bobbing boats, and yachts, and light cruisers. It was the evacuation from Dunkirk and then as on that later occasion Island men and boats were to the fore.
The Royal yacht came up at fast speed, well outside the then 100 year old Chapman lighthouse and dead on 10.20 a.m. passed the Labworth Cafe decorated with a "Welcome Home" message. As they did so a signal lamp flashed out a loyal message from the flat roof. The operator was Canvey sea scout leader Vic. Ellis. Sea Scouts formed a guard of honour as the message was acknowledged, letter by letter, from the Royal craft. The Island's message read "To The Royal Yacht Britannia, Welcome Home and Loyal greetings to Her Majesty from the residents of Canvey Island". Canvey was on show too for the occasion had been marked by inviting distinguished dignitaries including guests from mainland authorities, the Essex County Council and the Essex River Board. They saw it all from the gaily decorated Labworth Cafe.
Extra police controlled the traffic and wardens of Canvey, Civil Defence Corps acted as guides to reserved parts of the seawall for school children and old age pensioners. Evening festivities included a "Welcome Home" dance by Canvey Territorial Army Battery at the Drill Hall. The Queen's return provided an opportunity for Eastern Area, St. John Ambulance Brigade to put into operation new wireless controlled mobile units. There were 19 points along the Thames waterside from Southend to London where crowds were expected to gather and first aid posts were established. These included two on Canvey manned by personnel from Canvey and Benfleet and Southend Divisions assisted by a contingent from Essex Divisions.  The occasion also coincided with Canvey's local Council elections but, as I noted at the time, '.. business at most polling stations was very slack until later in the morning'.
Canvey was now well on the way to recovery but still world -wide generosity recognised the Island's hardship. Carpets, given by Canadians, were donated to residents who were living on the Island at the time of the flood.
In June it was announced that £20,000 had been allocated by the Essex River Authority to improve certain hardcore roads laid after the flooding and to show that women's lib. is no new thing Canvey elected their first woman Council Chairman.