Bear up! Canvey will live again.
Evening Standard 3rd February 1953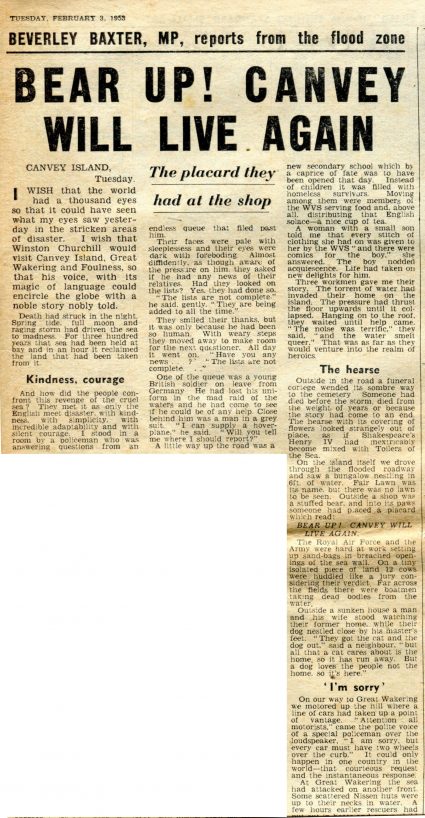 I wish that the world had a thousand eyes so that it could have seen what my eyes saw yester­day in the stricken areas of disaster. I wish that Winston Churchill would visit Canvey Island, Great Wakering and Foulness, so that his voice, with its magic of language could encircle the globe with a noble story nobly told.
Death had struck in the night. Spring tide, full moon and raging storm had driven the sea to madness. For three hundred years that sea had been held at bay and in an hour it reclaimed the land that had been taken from it.
Kindness, courage
And how did the people con­front this revenge of the cruel sea? They met it as only the English meet disaster, with kind­ness, with simplicity, with incredible adaptability and with silent courage. I stood in a room by a policeman who was answering questions from an endless queue that filed past him.
Their faces were pale with sleeplessness and their eyes were dark with foreboding. Almost diffidently, as though aware of the pressure on him, they asked if he had any news of their relatives. Had they looked on the lists? Yes, they had done so. "The lists are not complete" he said, gently. "They are being added to all the time." They smiled their thanks, but it was only because he had been so human. With weary steps they moved away to make room for the next questioner. All day it went on. "Have you any news . . ? ' " The lists are not complete.   . ."
One of the queue was a young British soldier on leave from Germany He had lost his uni­form in the mad raid of the waters and he had come to see if he could be of any help. Close behind him was a man in a grey suit. "I can supply a hover-plane." he said, "Will you tell me where I should report?"
A little way up the road was a new secondary school which by a caprice of fate was to have been opened that day. Instead of children it was filled with homeless survivors. Moving among them were members of the WVS serving food and above all distributing that English solace—a nice cup of tea. A woman with a small son told me that every stitch of clothing she had on was given to her by the WVS "and there were comics for the boy." she answered. The boy nodded acquiescence. Life had taken on new delights for him.
Three workmen gave me their story. The torrent of water had invaded their home on the island. The pressure had thrust the floor upwards until it col­lapsed. Hanging on to the roof, they waited until help came. "The noise was terrific," they said, "and the water smelt queer." That was as far as they would venture into the realm of heroics.
The hearse
Outside in the road a funeral cortege wended its sombre way to the cemetery. Someone had died before the storm, died from the weight, of years or because the story had come to an end. The hearse with its covering of flowers looked strangely out of place. as if Shakespeare's Henry IV had inextricably become mixed with Toilers of the Sea.
On the island itself we drove through the flooded roadway and saw a bungalow nestling in 6ft. of water. Fair Lawn was its name, but there was no lawn to be seen. Outside a shop was a stuffed bear, and into its paws someone had placed a placard which read:
BEAR UP! CANVEY WILL LIVE AGAIN.
The Royal Air Force and the Army were hard at work setting up sand-bags in breached open­ings of the sea wall. On a tiny isolated piece of land 12 cows were huddled like a jury con­sidering their verdict. Far across the fields there were boatmen taking dead bodies from the water.
Outside a sunken house a man and his wife stood watching their former home, while their dog nestled close by his master's feet. "They got the cat and the dog out," said a neighbour, "but all that a cat cares about is the home, so it has run away. But a dog loves the people not the home, so it's here."