Flooding Aftermath
Canvey Horticultural Society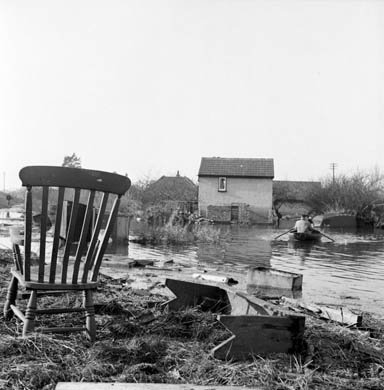 In the Essex Record office there is a report compiled in 1953/4 by R W Hoster Honorary Secretary of the Canvey Horticultural Society. Members were asked to write up about their gardening experiences after the flood, these were collated into the report, which makes interesting reading looking at the period from a different direction. The following are extracts from the report.
The spring following the flood was exceptionally dry, rainfall much lower than average. There were long periods of cold North Easterly winds which dried the topsoil into an iron hard surface to the depth of several inches.
Several comments from members tell us how deep the flooding was, for how long it was sustained and also some of the problems experienced over the following year:-
Ground flooded to 18inches for 17 days.
3ft near to large dyke cleared within 6 days. Some success- French beans germinated turned colour and died. Victoria Plum blossom prolific- No good few set.
3ft -2wks. Rose bushes dead. Flower shrubs dead. Bulbs stunted- rotted. Spring flower plants all dead. Annuals stunted or dead. Other vegetables not germinated.
7ft. 5ft one week later. The front garden was several inches deep in mud which was thrown up by jeeps and lorries. First job was removing this. Found a few green shoots. Replanting some plants growing slowly. Roses look dead. Brambly seedling apple tree looks good. A few worms are now appearing, but the rest of the garden pests seem to have withstood all the ravages of the flood and are all attacking with their usual vigour.
Height of flood 6ft down to 2ft 12-14 days. Lost everything except rhubarb, stocks, marigolds and blackberry.
From R W Hoster 1 ½ ft – 2ft  for 20 days. Beets seemed to like the salt, runner beans could not take it very sickly looking. I was beginning to despair when overhead a blackbird sang!! And I thought "Well if you can carry on with the slaughter of the worms that has taken place and you can sing about it, its up to me!!"
Stunted – dwarfed – gave up the ghost- notes on growth
Two young Horse Chestnut trees in full bloom with perfect candle stick blossoms, dozens of them, but not a single leaf on the two trees.
Weeds – I have never seen such weeds, almost like the wild dark green spinach which grows on the seawall but in proportion, a good square yard in growth and it could be rolled up like a mat when lifted.
Another freak of nature. I have a wild hop trained over a trellis, it thrived and climbed from the trellis into a tree and produced hops that would have delighted any brewer, it was a complete throw-back to the tamed or cultivated variety.
A free supply of gypsum (a white or colourless mineral consisting of hydrated calcium sulphate) was made available through the Canvey Island Council to those whose gardens had been flooded and a further supply was at the disposal of those who were ready to obtain it from the councils Central Depot some months later.
Also turf from the mainland was brought to the Island to make good the slaughter of worms which the flood left in its wake. Jars of worms could be found on the shelves at the Horticultural Society.
Hot days appeared to have the effect of bringing the salt up to the surface and in many places on the Island it could be seen as white crystal patches.