LSE Gives Magnificent Help In Flood Disaster
Front page of the Beaver Students paper 1953
This article appeared in the Newspaper of the Students Union at the London School of Economics and Political Science (University of London)called 'Beaver' on the 24th February 1953.
~~~~~~~~~~~~~~~~~~~~~~~~~~~~~
"Beaver" Reporters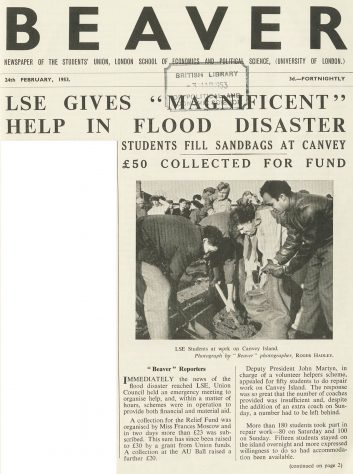 Immediately the news of the flood disaster reached LSE, Union Council held an emergency meeting to organise help, and, within a matter of hours, schemes were in operation to provide both financial and material aid.
A collection, for the Relief Fund was organised by Miss Frances Moscow and in two days more than £23 was sub­scribed. This sum has since been raised to £30 by a grant from Union funds. A collection at the AU Ball raised a further £20.
Deputy President John Martyn, in charge of a volunteer helpers scheme, appealed for fifty students to do repair work on Canvey Island. The response was so great that the number of coaches provided was insufficient and, despite the addition of an extra coach on Sun­day, a number had to be left behind.
More than 180 students took part in repair work—80 on Saturday and 100 on Sunday. Fifteen students stayed on the island overnight and more expressed willingness to do so had accommoda­tion been available.
Despite apparent disorganisation— the promised issue of gumboots did not take place—everyone was soon found a job. Some filled sandbags at the central HQ, while others loaded and travelled with the Army and RAF trucks along the waterlogged roads to the sea walls. There, the sandbags were unloaded and carried -often distances of nearly a quarter of a mile—to fill the breaches.
Help for Holland

Students have since been working at WVS centres in London, parcelling up clothes for flood victims both in this country and in Holland.
Union President Gideon Ben-Israel afterwards told reporters: "The res­ponse from LSE was magnificent and everybody did a wonderful job of work. I should particularly like to mention the girls—although some of us had doubts about their being able to stand up to the work beforehand, we soon changed our view; they did a tremen­dous job.
"Owing to pressure of time and the necessarily difficult circumstances there were one or two organisational hitches and I am afraid some students were left behind when we came back, but on the whole it was a really successful effort."
Official Thanks
The Sub-Divisional Controller for Civil Defence, SE Division, Mr. A. Hatt, in a message to the Union said: "I should like to express my warmest appreciation of the manner in which you and your workers spontaneously rose to the occasion during the disaster, and thank you most sincerely for the personal sacrifices and splendid work you have undertaken."
A number of LSE students—includ­ing last year's president. Mr. David Kingsley—living on Canvey and in Lincolnshire, Norfolk and Kent, had their homes flooded, and one of them, Mr. K. MacKinnon, gives an eye­witness report of his experiences in the next column.