Flood water is receding on Canvey
Workers toil night and day to close sea wall breaks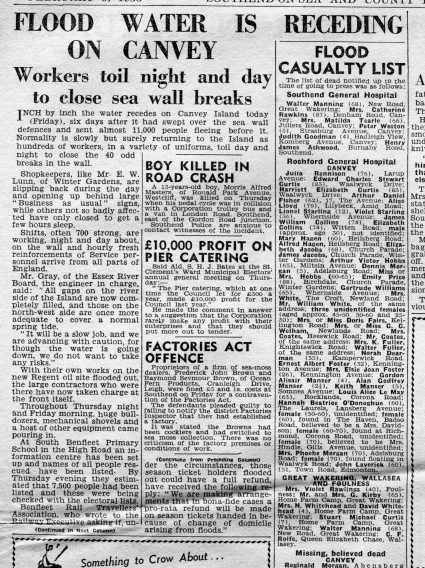 Article in the Southend Pictorial 6th February 1953
Inch by inch the water recedes on Canvey Island today (Friday), six days after it had swept over the sea wall defences and sent almost 11,000 people fleeing before it. Normality is slowly but surely returning to the Island as hundreds of workers, in a variety of uniforms, toil day and night to close the 40 odd breaks in the wall.
Shopkeepers, like Mr E. W. Lunn, of Winter Gardens, are slipping back during the day and opening up behind large "Business as usual" signs, while others not so badly affec­ted have only closed to get a few hours sleep.
Shifts, often 700 strong, are working, night and day about, on the wall and hourly fresh reinforcements of Service per­sonnel arrive from all parts of England. Mr. Gray, of the Essex River Board, the engineer in charge, said: "All gaps on the river side of the Island are now com­pletely filled, and those on the north-west side are once more adequate to cover a normal spring tide. "It will be a slow job, and we are advancing with caution, for though the water is going down, we do not want to take any risks."
With their own works on the new Regent oil site flooded out, the large contractors who were there have now taken charge at the front itself. Throughout Thursday night and Friday morning, huge bull­dozers, mechanical shovels and a host of other equipment came pouring in.
At South Benfleet Primary School in the High Road an in­formation centre has been set up and names of all people res­cued have been listed. By Thursday evening they estim­ated that 7,500 people had been listed and these were being checked with the electoral lists.
Benfleet Rail Travellers' Association, who wrote to the railway executive asking if, under the circumstances, those season ticket holders flooded out could have a full refund, have received the following re­ply: "We are making arrange­ments that in bona-fide cases a pro-rata refund will be made on season tickets handed in be­cause of change of domicile arising from floods."