Leigh boats played a big part in rescue operations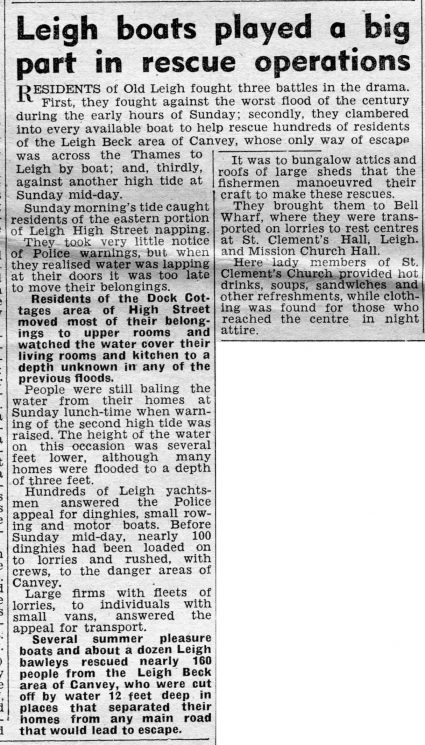 Residence of Old Leigh fought three battles in the drama.
First, they fought against the worst flood of the century during the early hours of Sunday; secondly, they clambered into every available boat to help rescue hundreds of residents of the Leigh Beck area of Canvey, whose only way of escape was across the Thames to Leigh by boat; and, thirdly, against another high tide at Sunday mid-day.
Sunday morning's tide caught residents of the eastern portion of Leigh High Street napping. They took very little notice of Police warnings, but when they realised water was lapping at their doors it was too late to move their belongings. Residents of the Dock Cot­tages area of High Street moved most of their belong­ings to   upper rooms and watched the water cover their living rooms and kitchen to a depth unknown in any of the previous floods. People were still baling the water from their homes at Sunday lunch-time when warn­ing of the second high tide was raised. The height of the water on this occasion was several feet lower, although many homes were flooded to a depth of three feet.
Hundreds of Leigh yachts­men answered the Police appeal for dinghies, small row­ing and motor boats. Before Sunday mid-day, nearly 100 dinghies had been loaded on to lorries and rushed, with crews, to the danger areas of Canvey. Large firms with fleets of lorries, to individuals with small vans, answered the appeal for transport. Several summer pleasure boats and about a dozen Leigh bawleys rescued nearly 160 people from the Leigh Beck area of Canvey, who were cut off by water 12 feet deep in places that separated their homes from any main road that would lead to escape. It was to bungalow attics and roofs of large sheds that the fishermen manoeuvred their craft to make these rescues.
They brought them to Bell Wharf, where they were trans­ported on lorries to rest centres at St. Clement's Hall, Leigh, and Mission Church Hall. Here lady members of St. Clement's Church provided hot drinks, soups, sandwiches and other refreshments, while cloth­ing was found for those who reached the centre in night attire.