The Two Old Ladies That Just Did Not Know About It All
4th February 1953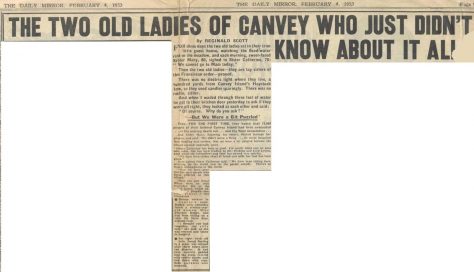 For three days the two old ladies sat in their trim little guest house, watching the flood-water rise in the meadow, and each morning, sweet-faced Sister Mary, 80, sighed to Sister Catherine, 70: "We cannot go to Mass today" Then the two old ladies—they are lay sisters of the Franciscan order—prayed. There was no electric light where they live, a hundred yards from Canvey Island's Haystack Inn, so they used candles sparingly. There was no radio, either.
And when I waded through three feet of water to get to their kitchen door yesterday to ask if they were all right, they looked at each other and said: "Of course. Why do you ask ?"
'–But we were a bit puzzled'
Then, for the first time, they heard that 12,000 people of their beloved Canvey Island had been evacuated……………….of the soaring death roll……………and the flood devastation………..And sister Mary fingering her rosary, blinked through her glasses and said: "We didn't know a thing……………we never imagined the flood was serious. But we were a bit puzzled because the Island seemed unusually quiet.
"Sister Catherine has been so good. I'm nearly blind and we miss our radio. She has been reading to me—Dickens and Lord Lytton, and other old favourites—and time passed very quickly. We have been rather short of bread and milk but God has been good."
Grey-haired Sister Catherine said: "We have been sitting here, praying for the world and for the people outside. There's so much unhappiness in the world. Now we must pray for the poor people who have suffered on this Island." Then she and Sister Mary went on with everyday life at the guesthouse, which adjoins the island's convent school—now evacuated.
*Rescue workers in Canvey's worst-flooded area yesterday found a seventy-year-old woman, Miss Florence Rudge, who had been sitting on a table for three days without food. "I thought you had forgotten, you silly men" she said, as she was rescued and taken to hospital.
*An eight-week-old baby, found floating in a pram, was rescued alive thirty hours after the disaster. It had been securely padded into the pram, covered with rubber sheets and tied down with rope. Both parents were drowned.