The AA Was There
Flood 1953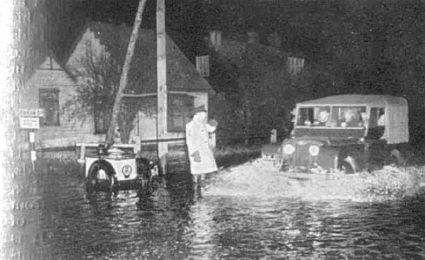 Article in the 'Sphere' February 1953
Patrols of the Automobile Association Assist the Police in Saving Life and Property in the Flooded Districts on the East Coast
The Automobile Association, renowned for its work of assisting motorists on the roads of Britain, played a prominent part in the early stages of the recent flood disaster when nearly 200 patrols working in the various coastal districts stretching from Yorkshire to Kent, where the sea had broken through, went about warning residents of the floods, rescuing people and animals and generally helping the police in the saving of life and property. The bulk of this work was undertaken by the patrolmen on their own initiative. Many of the men acquired small rowing-boats, while some made improvised rafts, and others waded through the water waist-high to release people from the upper rooms of their homes.  
On Canvey Island, Inspector Coy and Patrol Dennison set out in a dinghy to inspect a bungalow which was completely cut off, and around which the water was swirling many feet deep. After repeatedly rowing the boat against the door of the bungalow they managed to break it down and inside the men found an old lady aged over seventy standing on a dresser.
Meanwhile other men were engaged in maintaining road communications. Scores of signs were erected to divert traffic round flooded areas and to keep unauthorised people from entering the stricken districts. A.A. telephone boxes were manned to ensure communications ; information centres were established at local garages, and mobile offices were opened up to answer inquiries from motorists about abandoned motor vehicles. On Canvey, where practically the whole of the tele­phone system went out of action, some of the new A.A. radio-equipped patrols went into action in order to keep the island in touch with the mainland.
After a lengthy survey, Patrol Superintendent Thurmer managed to find a through route to the Tilbury Ferry and Docks when all approaches were thought to be impassable. It was immediately signposted to enable traffic to get through. In many cases the police engaged in rescue work handed over the whole of the traffic control in the district to the A.A. men, who also undertook the task of clearing the roads of debris.