Two More Victims
Reported in the Luton and Bedfordshire Chronicle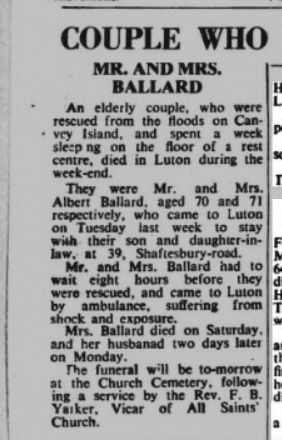 Although they did not die from the elements on the night of January 31st/February 1st 1953 they are as much victims as those that did. Reported on the 9th February.
Mr and Mrs Ballard
An elderly couple, who were rescued from the floods on Canvey Island, and spent a week sleeping on the floor of a rest centre, died at Luton during the week-end.
They were Mr, and Mrs. Albert Ballard, aged 70 ard 71 respectively, who came to Luton on Tuesday last week to stay with their son and daughter-in­-law, at 39 Shaftesbury-road.
Mr. and Mrs. Ballard had to wait eight hours before they were rescued, and came to Luton by ambulance, suffering from shock and exposure.
Mrs. Ballard died on Saturday and her husbanad two days later on Monday.
The funeral will be to-morrow at the Church Cemetery, follow­ing a service by the Rev. F. B. Yarker Vicar of   All Saints Church.