We have recently been very lucky to obtain this booklet which reports about the work of the WVS during the flood. It covers the whole of the East Coast that was affected on that fateful night of the 31st January and the 1st February. Although there are only a few snippets of information specifically about Canvey it gives an insight into the whole event and it's aftermath. The following is just one of the snippets about Canvey and it is typical Canvey. There are more below.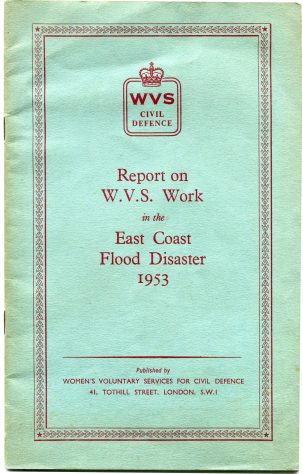 The Centre Organiser in Canvey Island, where the worst flooding and the greatest loss of life occurred, was marooned all night in her home ; on being rescued she made her way, wearing her W.V.S. uniform, to the Rest Centre in South Benfleet, where she worked continuously until she could return to the Island after fourteen days. For several days she was posted as missing because she had forgotten to register!
Must not forget the cup of tea
The County Organiser for Essex had been telephoned at 4.45 a.m. by the Ambulance Department and asked to stand by, as there was " a little trouble at Canvey." She notified Region. Soon after 6.0 a.m. she was called again and told that the people on the Island were being evacuated to Benfleet, and asked to take tea and clothing down.
Tracing people was very important part of their job
One of the biggest tasks which confronted W.V.S. was the problem of dealing with the enormous number of enquiries, both from the homeless people themselves and their anxious friends and relatives. Information lists were made in the Rest Centres, but in Canvey Island many hundreds of evacuees were taken by train and coach and car straight to London, without any record of their names and addresses having been made. A large number of them went to the ilford Centre which, realising that so many of them had come away without reporting to any authority, made lists of their home and local addresses and these lists were sent each night to Benfleet for information and checking. After the second day Ilford compiled lists, not only of their own evacuees who came to the Centre, but of those in all eleven Boroughs in Metropolitan Essex who came to any of the W.V.S. Centres in these Boroughs for help, and continued to do so for a fortnight. It is worth noting that 50 per cent of the names sent to Benfleet were of unregistered families, whom otherwise it would have taken much longer to locate.
Keeping everyone fed
In Essex help was given all along the coast. This was done from boats at Burnham-on-crouch, and Maldon sent a team of six members to Wivenhoe who daily sailed some five miles up the Crouch, where they remained on a remote sea wall, practically surrounded by water, to brew hot drinks for the seven hundred men working there. This operation they kept up for three weeks, north Middlesex, called by the Middlesex Civil Defence Officer, took a van to Canvey, where it remained for 17 days, during which time it was manned by 44 teams (217 members) and served 60,000 snack meals and 6,000 main meals. Between shifts W.V.S. members rested in an ambulance. When it was withdrawn, Essex took over and for three weeks W.V.S. vans were sent over to Canvey Island throughout the day and night, taking across hot tea, sandwiches and hot meals.
Among many others, 4,000 canvey island families had parcels.
Not just for a day or two
The Watford Squad left Watford at 2.30 p.m. on February 1st for South Benfleet, where it stayed for 2 days. It was also alerted to go to Canvey Island for the week-end of February 14th to 16th, when the sea wall was again in danger.
Dry warm clothing
Warm, dry clothing was a dire need for the men working on the sea wall, day and night in appalling weather. From Canvey, where a special store was set up for them as near as possible to the sea wall, to the small Suffolk town where three soldiers were given complete outfits, W.V.S. everywhere did their best to meet this need. But warm, dry clothing was not enough. Soon from the flooded coastal areas urgent appeals came for heavy and protective clothing and equipment. Through the kindness of manufacturers and others W.V.S. obtained and distributed 1,263 pairs of gum boots, 600 pairs of waders. 100 sou'westers, 100 oilskin capes, 1,728 pairs of goggles, 750 pairs of seaboot stockings, 1,000 duffle coats (given by the Admiralty).
In addition to the seaboot stockings, 372 pounds of oil wool and 100 pounds of balaclava wool were issued from W.V.S. Headquarters to be knitted up by W.V.S. themselves and by members of the public. The wool was parcelled up into the correct amounts at Headquarters, complete with instructions and needles, and displayed in the Shop window, at 41, Tothill Street. Many passers-by came in and volunteered to be knitters.
In all the flooded areas W.V.S. did what they could to help to dry wet clothes, more especially socks. In Canvey the wet garments were dried by Army drying machines, and in Felixstowe for several nights after all the homeless had left the Rest Centre helpers stayed up all night because the men doing repairs involved much general welfare work. Many of the younger men, soldiers and undergraduates, brought for the first time face to face with dead people, were themselves shocked, and needed mothering.
W.V.S. were glad to be able to help with clothing the Inspectors of the R.S.P.C.A. who rescued over 11,000 animals from the floods.
This is just a small part of the work the WVS did for flood victims taken from their booklet.
You can read much more and see their photos (not of Canvey) in the gallery below.