Flood Memories
Canvey Island 1953
It's 5.30 on Saturday 31st Jan 2009 and a strong east wind has been blowing all day, but it's nothing like as strong as the wind that was blowing from the same direction at this time exactly on a Saturday 56 years ago. I was ten years old and coming back from having my haircut at Selby's, coming round Hooton's Corner the wind was howling through a double wire that went across the road. I was thinking 'if this wind keeps up tomorrow it would be great to try and fix a sail to the trolley my dad had made me' (I think they called them 'jiggers' in London, 4 pram wheels and wooden butter box guided by string pulleys). It would go like the clappers!
So probably after listening to London Tonight and Henry Hall's Guest Night on the radio and still dreaming of innovative methods of transport I went to bed about 10 o'clock. By 4am I heard my granddad knocking on the door of 'Sundown' our house at the top of Gafzelle Drive. He was telling my dad "The back sea walls gone down and waters coming in. People are being taken into Leigh Beck School and they want us to take buckets and things from the 'bakery' to boil water for tea making!" By this time I'd got up and gone downstairs with mum. Dad disappeared into the night. The wind was still howling away but the moon was very bright and I could see through our glass panelled doors up to the High Street and it was as dry as a bone! Anyway mum got me to work picking up what I could from the floor, like shoes from the airing cupboard, putting them on the dining room table. I looked out of the door again and could see the moon's reflection on the ground. I thought 'that's a bit funny!' Then the strangest sensation, I'll always remember, the lino turned cold and started to ripple and wobbled under my bare feet. I wasn't frightened just slightly worried as I found myself ankle deep in freezing water. Then we suddenly realised we hadn't woken up my mum's 89 year old dad, Granpa Porteous, who was in the downstairs bedroom. By now the water was knee-high and I helped mum walk him through it to the bottom of the stairs and then with some difficulty, upstairs.
We were very fortunate that when in 1947 mum and dad moved into the bungalow, 'Sundown' they'd had the loft converted into the two bedrooms. So we were safe and relatively warm. Obviously, at this time, we were completely unaware of the terrible circumstances being endured by many (including some of my classmates) less that half a mile away in Newlands and Sixty Acres. Even as a 10 year old I was becoming aware of the gravity of the situation when we heard somebody wailing outside in Gafzelle Drive. It was Mrs Green who had just moved down from the East End into 'Topsy', a one-roomed chalet further down Gafzelle, she was above her waist in water and holding up her son, Johnny and hardly making any headway. The road was unmade with bits of loose rubble underfoot. Mum lent out of the window and tried to persuade her to come to our door but she must have persevered and made it up to dry ground on the high street. We never saw them after the flood. Shortly after this my dad must have waded back in and we sat it out until daylight.
Despite the seriousness of the situation some memories have a certain levity, like the enamel veg bin whirling round at the bottom of the stairs and why do carrots float in salt water?
With daylight on Sunday morning my dad must have gone out again and made some arrangements because by 10 or 11 o'clock, now wearing his swimming trunks he piggy-backed my sister Jenny, brother Chris and myself up to the High Street. He then ferried out our dog 'Patch' in a small tin bath. My Uncle Ray then took us by car round to his bungalow in The Driveway to pick up Auntie Dot and my two younger cousins. There wasn't much water in The Driveway, just a bit in the front gardens. Then he dropped me and my siblings of at Auntie Connie's (mum's friend) at Jotmans Lane, Benfleet. We waited all Sunday afternoon but my mum and youngest brother Trevor didn't arrive. It later turned out that with Granpa Porteous they had been taken out of 'Sundown', put on a bus and were at one of the reception centres in Benfleet. My dad found them on Sunday night.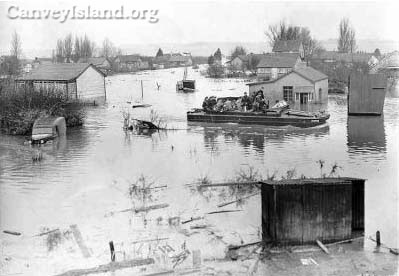 Eventually, we kids spent 3 weeks in Finchley with my parent's former landlady and good friend Mrs Wright. Living in north London was certainly a learning curve for a Canvey kid. One distinct memory I have is of getting of a bus and Mrs Wright, who had a very breathless voice, announced to the waiting passengers "These poor children have just come from Canvey Island in just the clothes they stand up in" I thought 'blimey I'm a refugee!'
When we came back to Canvey things were certainly in a mess! The High Street was covered in mud from all the lorries working on repairing the seawall. The puddles were full of dead worms like spaghetti. We had to stay at Auntie Blossom's'The Settlement' until our house had dried out and been cleaned. Fortunately 'polite' (thin asbestos) walls are not affected by salt water and we could put up with the remaining smell and buckled floor boards. We even got a large patterned carpet from 'The Lord Mayor's Fund!' (This was a plus we'd never had a carpet before!) By the end of March we were all settled back in. It was Spring and I still had to look forward, with some trepidation, to sitting the '11 plus exam' and with some interest for the forthcoming Coronation!
We were all back home on Canvey.