I was only 4 years old
The Floods 1953
As the 60th anniversary of the 1953 Flood approaches, I started to do some research on the events of that fateful night and the aftermath. My family, consisting of my Dad, Pat Thain, local boxing hero, my Mother Patricia, my brother Alan (who was 6 yrs. at the time) and myself Patrick (aka Rick). I was only 4 years old at the time, however, I still remember being woken up in the middle of the night by the sound of our wooden bed hitting against the wall as it floated on top of the water which engulfed our cottage.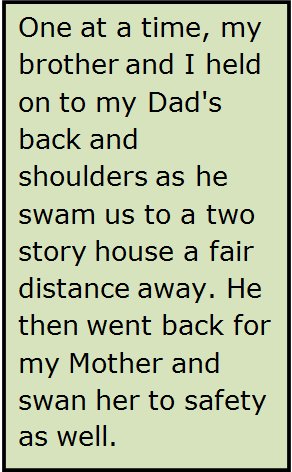 The next thing I remember is my Dad outside the bedroom window reaching in for my brother and I. One at a time, my brother and I held on to my Dad's back and shoulders as he swam us to a two story house a fair distance away. He then went back for my Mother and swan her to safety as well. I believe our cottage was on High Street. We stayed in the two story house for a couple of days until the floodwater subsided. We were rescued by a dinghy and taken to higher ground and eventually to the Benfleet Station. The only clothing that we had were the blankets we were wrapped in to keep us warm.
We travelled to London to stay with my Grandmother. I can remember that we were stopped by a policeman when we arrived in London. When he heard that we were from Canvey Island, he helped us get a ride to my grandmother's house.
My Dad travelled back to Canvey a few weeks after the flood subsided to assess the damage to the cottage and collect any valuables that managed to survive. The walls and foundation of the cottage crumbled and it had to be demolished a short time later. Our family lost everything that night, house, clothing, piano, automobile and all other personal belongings. Our family stayed in London for the next six months and then in mid June we immigrated to Canada to start a new life in a new country.
My Dad was devastated, after being in the army for 7 years and losing his home to war bombs and then to lose everything again in 1953 was too much. We sailed from Southampton, arriving in Montreal a few weeks later and then by rail to Winnipeg, where I continue to live with my family.
My parents have passed on and my brother moved to Edmonton in the early 80's. Although I was very young at the time, I still have some chilling memories of that devastating flood which changed our lives forever. I still think of Canvey Island quite often and hope to re-visit in the next year or two.