I worked for the LNER company and they were very interested in first aid work, so I joined their St. John's Ambulance group and about a year later I joined the St. John's Ambulance Brigade which was the uniformed side of the organisation. I used to do regular ambulance duties. We were attached to London and district which meant we attended all the big occasions like Trooping the Colour and the King's funeral. I was just out of the Army when I went to the King's funeral in 1952. I was just 20 years old then when I started volunteer ambulance work. St. John's ran the ambulance service for Southend before Essex County Council took over in about 1970.
On the night of 31st January 1953 I was due to go on duty when the Sergeant at the ambulance station phoned and said I was to go to Canvey. He gave me a rendezvous point but I can't remember where it was. It would probably have been somewhere like the Council Offices. I was living in Rayleigh at the time and had no transport so I went up to the London Road to thumb a lift. I was used to thumbing lifts. After a while a van, a Luton van, pulled up and the driver asked me where I was going. I told him Canvey. He said I didn't want to go there because it was flooded. He was going there though and he had a load of coffins in the back. So that's how the night started.
I arrived on Canvey and found our organisation. By that time there were a lot of military coming onto the Island. It was a bit chaotic because the military were trying to get on and people were trying to get off and there was only one bridge. We were organised into groups when we got there. The Air Force came from Hornchurch and somehow I got attached to  their medical side and worked with them for several hours. We were working in terrible conditions, it was freezing cold and wet. Then the Army came and brought amphibious vehicles. We drove around in those looking for people. We found some survivors on roof tops of bungalows. This prompted the authorities to tell us to look in people's lofts. I think we found a couple of bodies in lofts as far as I remember. Anyway that was the first day. We had nothing to eat or drink. There was nothing organised in that respect. We didn't get any sleep either.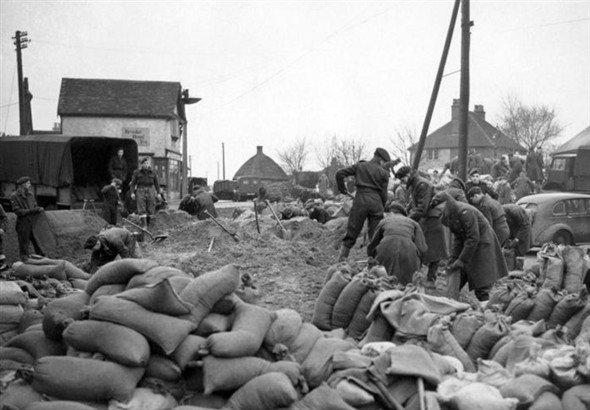 I then worked with the Air Force filling sand bags. We treated men for hypothermia. The next morning the Salvation Army arrived. They broke into a grocer's and left I.O.U.s for the food they had taken and we had cornflakes and hot milk, so that was something to get on with. Then we were generally ferrying people from the Island to Southend hospital and the King John School which was opened as a refuge centre. I did the ferrying backwards and forwards for the next day and a half. Then they pulled us off the Island because there had been flooding at Wakering. So we went there to pick up people. After a week I was back to commuting to Stratford.
The St. John's Ambulance Brigade in Southend only had a small nucleus of paid staff which was supplemented by volunteers like me. It was an efficient service at the time. There was a lot less traffic around in those days. The vehicle didn't have sirens it had bells. At night there was only one person on duty for the whole borough but they could call on others if necessary.